My last visit to Atlanta was 16 years ago. I loved it then, as a wide-eyed, scared 19-year-old on a budget, spring break road trip via Greyhound. This spring, as a woman in her mid-30s, I was glad to return to Atlanta's warm embrace.
The first time I was in Atlanta, I rode in to the questionable Greyound station and stayed in a sketchy hostel. I was also dazzled by the clean, open spaces the Summer Olympics had recently created, along with cops on bicycles, and the World of Coca-Cola.
This time, I came by my own vehicle, stayed in a nice place on the northside through AirBnB, found a wonderfully flourishing coffee scene and was once again dazzled by the World of Coca Cola. Some things don't change.
[Click here to get a $35 credit on AirBnB – on me!]
Before arriving in Atlanta, I had been sick and was barely recovered, so I took it easy on Day One. Eventually, though, I found my way to Revelator Coffee, which I follow on Instagram. This was my intro to the Atlanta coffee scene, which is right up my alley. Many of Atlanta's coffee shops, Revelator included, have an industrial/comfortable/airy feel that I absolutely love. I could just live in the Revelator Coffee shop on 14th Street, with their sparse décor and leather couches. Oh, the coffee and snacks were great too!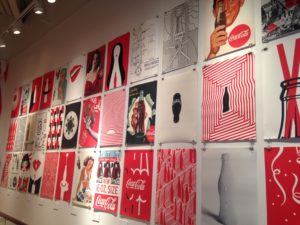 It wasn't long before I found my way to Centennial Olympic Park, where the World of Coca-Cola lives. I recalled a much smaller experience 16 years ago. I remember the old Coke advertising and a sampling room, but not much more. This time around, visitors were greeted with a free bottle of Coke, given entrance to a memorabilia-filled room where a docent talked about Coca-Cola, and then led into a movie theatre where a very emotional mini-movie was played – in true "I'd like to buy the world a Coke" fashion.
After this intro, visitors could wander to several exhibits, including the Vault of the Secret Formula (more hype than anything), Milestones of Refreshment (where an archivist is given due credit and one can walk through Coke history, which often seems like American history), the Pop Culture Gallery (where marketing meets art), a theater playing old Coke commercials, another 4-D theater with moving chairs, a 3-D film, and a bit of water works. These exhibits built such a sense of awe within me, as a marketer.
I don't know why Coca-Cola has such an effect on me – or millions of people around the world. But it inspired me in my profession to see such thorough, consistent, quality marketing displayed in such an exciting way.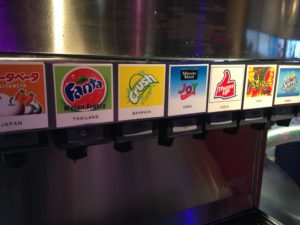 And, finally, in the World of Coca-Cola, visitors enter my favorite section: the Taste It! room. In this room, I wandered among stations from each continent which contained localized drinks. I'm told there are 100+ possibilities to sample – as if that first free Coke wasn't enough to give you a buzz! My favorite samples included the Fanta Pineapple served in Greece and the Fanta Melon Frosty from Thailand.
On your way out the door, you get to select another free Coke bottle off the assembly line and enter, of course, the gift shop. I was actually sad to leave! The World of Coca-Cola is an exciting experience and worth the visit while in Atlanta.
Across the park is a much more serious building that I would encourage you to visit as well: the Center for Civil and Human Rights. This building, which wasn't there when I visited in 2000, provides a provocative and evocative experience of civil rights abuses, both American and worldwide, racial and otherwise.
On the first floor, "Rolls Down Like Water: the American Civil Rights Movement" is informative and startling. I was greeted with a stack of TVs, some playing different TV shows or newscasts. It was jaw-dropping to listen to established, white men talk about "the Negro problem" and how they thought African-American people are. As in, they are less than human, less than deserving of full human rights. Of course, I know about our history as a nation, but it was eye-opening to see actual media from the 1950s-1970s.
The next stop in this exhibit was even more startling. Visitors could sit down at a counter, on a stool. We were instructed to put our hands in a certain place on the counter and to put headphones on. A timer was started once the soundtrack started. For the next minute and a half, through the headphones, I had white men whispering and yelling in my earphones, breathing down my neck, calling me names and even shaking my stool, which actually did shake! Visitors were also told to close their eyes for the full experience, which I could barely do, just as I could barely hold back the tears from the fear of the experience and the shame of our history.
I think most other visitors stayed for a minute and a half, and I admired those who stayed longer. As I walked around the rest of the exhibit, I wondered if or how I would have participated in the civil rights movement in the 1960s, given the nature of the fight in many cities. And, of course, I wondered if and how I was participating in many movements today.
The Center for Civil and Human Rights also had other wonderful exhibits, including one about dictators (you'd be surprised how short so many of them were!), civil rights heroes, and modern-day abuses in the chocolate, flower, sportswear, and other industries.
Back out in the city, more of Atlanta's coffee shops are worth visiting. Honorable mentions go to:
Octane Coffee has several fine locations, including the Westside on Marietta Street. The granola yogurt parfait was yummy and the coffee was delish. In their brick-and-window shop, there were many seating options, from indoors to outdoors, from the bar to hightops to big tables. This location made me realize there's a thriving digital scene in Atlanta, since many of us had our laptops out. (And yet there were also lots of face-to-face conversations happening – a nice mix.)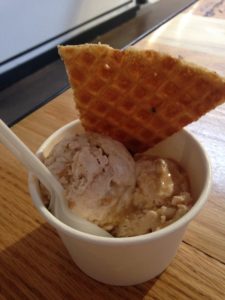 The Krog Street Market was a culinary delight, even if the prices were fairly high. I had lunch at The Little Tart Bake Shop, which had one of the best BLTs I've ever had. Then I found Jeni's Splendid Ice Creams. Splendid they are, and I tried the Churro Ice Cream. I also bought a bar of chocolate from Xocolatl (don't ask me how to pronounce that), which was expensive but worth it if you can hold out and savor bites over many days.
Two other shops worth mentioning are Land of a Thousand Hills, which is a growing franchise, and Revolution Donuts. Revolution Donuts got me out to Decatur and made me realize that there was more to explore outside of Atlanta proper. They also made me realize there truly is a revolution going on with donuts and people are no longer settling for the same old donuts the DD serves up!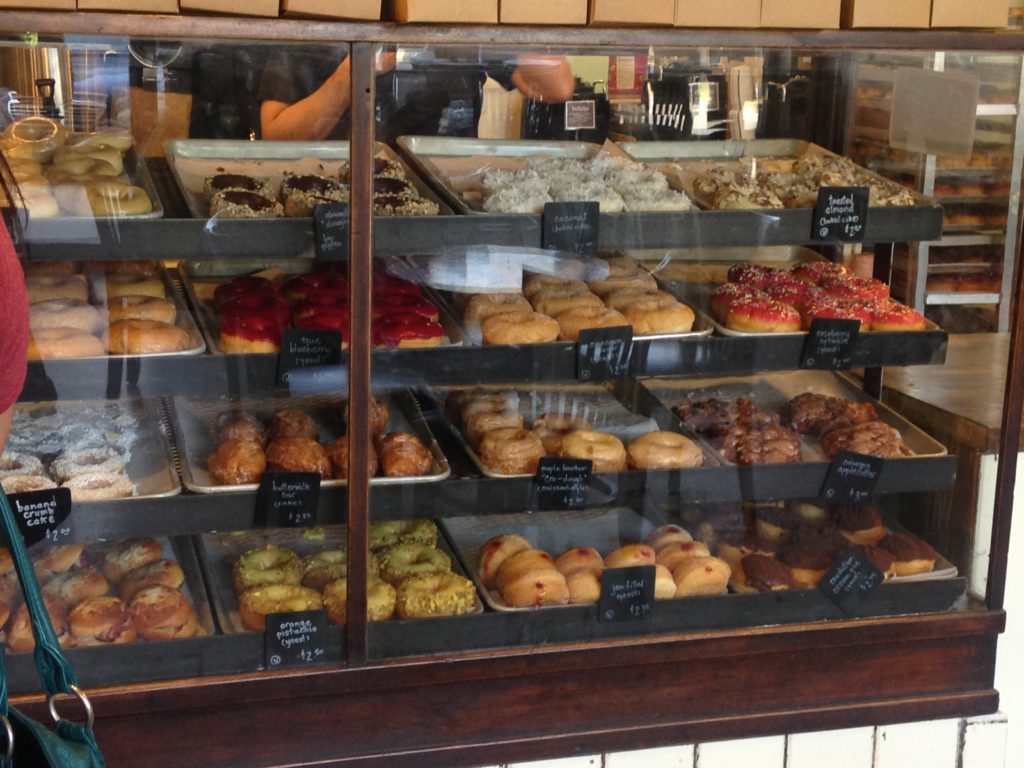 A highlight of my time in Atlanta was a visit to the IMAX at the Fernbank Museum of Natural History to see the National Parks Adventure. Since I'll be traveling to quite a few national parks this year, it was wonderful to get a dramatic, cinematic overview. 2016 is the National Park System's 100th Anniversary, so the parks are really putting on the ritz in the media, as well social media.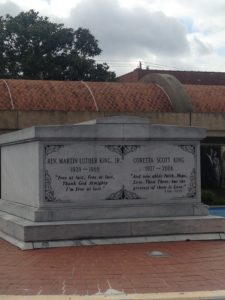 Since I'd been to Atlanta before, I skipped over seeing some things in detail. I did, though, walk through the Martin Luther King, Jr. sites. The last time I visited, Coretta Scott King was not entombed, so I was glad to be able to pay my respects. I also walked around Piedmont Park and even visited a colleague at Georgia Tech, while his daughter had swim practice in their Olympic-sized pool. I was surprised to find, in another pool on campus, a sizable water slide – with no one in it! I tell you, if I had a water slide where I went to school or worked, I'd swim a lot more!
It was great to be back in Atlanta and see how the city has changed in 16 years. This visit made me realize that it's okay, even edifying, to return to places. To see how they change and, even moreso, to see how I've changed. Atlanta seemed both bigger and smaller than my 19-year-old self saw it. This time, I comfortably explored the city without so much fear of danger, but also with an adult awareness of all the ways to travel and enjoy a city.
I'll be back again.
What do you think about Atlanta? And did I miss any good art spots you know of?