Coastal Maine Getaways was a great opportunity to start a website from scratch. Lindsey, the owner, had been managing vacation rental properties for some time, but hadn't yet named her company and had only advertised her listings on VRBO (Vacation Rentals By Owner). It was working fairly well for her, but she wanted more control over her web presence, including the name of the company, SEO (search engine optimization), and the ability to add and highlight more options than VRBO allowed.
Lindsey engaged me to do some market research and to eventually design and populate the site.
My first step was to meet with her (via phone and GoTo Meetings) to talk about her brand, the properties, and other websites which she liked. In talking about the properties specifically, I was also able to begin sketching out a possible website architecture for the site.
What is website architecture?
Website architecture is the way a website is structured. If you think of a website as a house, you may say you need two bathrooms, but you still have to decide where they go as well as which rooms they're in or connected to. With a website, like Lindsey's for example, we created a page called "Vacation Rentals" and nested each property under that page. We could have chosen to nest those under the main page, but the way we did it creates a slightly cleaner structure for her to manage on the backend.
With those preliminaries underway, I was into the market research. I used Google Analytics Keyword Planner. I researched the keywords Google searchers use to find several of her competitors and similar companies, as well as her own listings on VRBO. My research showed that there is year-round interest in coastal Maine vacations, even if the vacations take place in a small seasonal window. This info will be helpful to Lindsey should she choose to advertise on Google AdWords in the future.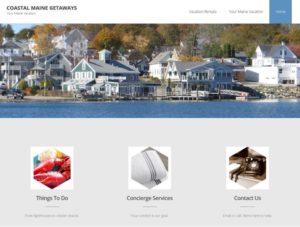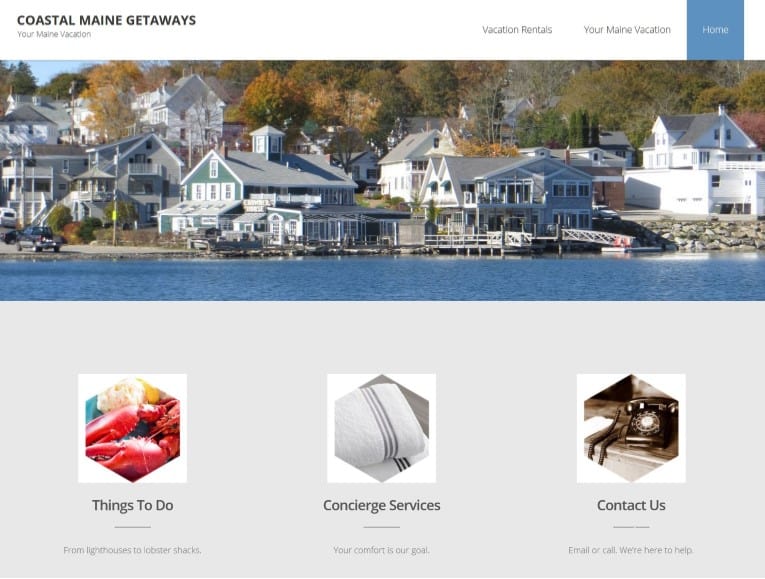 My research also showed that people are using searches with two to four words and they're also using fairly obvious phrases, like "Maine vacation." Even when research produces obvious results, this can be helpful. For example, I clarified with Lindsey that she was welcome to name the company however she wished, and that we could use any name (the name of her company or not) as the URL. But, I advised, she may want to use relevant keywords rather than her name, for example, as the company name. If the URL of your site matches the keyword(s) a searcher uses, your SEO ranking will be higher.
After I filtered out irrelevant keywords, like "tourism" or "summer 2017," I delivered a list that included geographic terms, like "oceanview" and "waterfront," and a list of service terms, like "rentals" and "guest cabins." With less than ten strong keywords on each list, she could combine any of them for optimal search results. With this data, Lindsey was left to make a decision before I searched for its availability as a URL. She decided on Coastal Maine Getaways and it has served her well since.
From there, I had to find a WordPress theme. Using WordPress was a fairly easy decision, although we looked into other services as well. There were others that would serve her needs even better than WordPress – website design companies that specialize in rental properties – but they were very expensive and not ideal for a small business owner. In situations like this, I'm always happy to provide as much information as possible to my clients, even if it means I hand off the project to another company. Luckily, there were plenty of WordPress themes which would serve us well.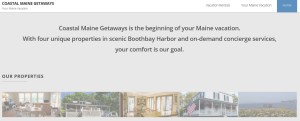 Still, I needed to help her narrow down the possibilities from the nearly 2,000 free themes available on WordPress alone. I did this by taking into account how the Coastal Maine Getaways brand should be communicated via color, font, and cleanness of design. So I was looking for certain backgrounds and accentuating color options, clean fonts, and an even cleaner theme design. I also wanted some flexibility in terms of the page title, header image, widgets, menus, and menu placement. Besides these elements, the backend of WordPress is nearly identical from one theme to the next, which is why I recommend the platform to most small business customers.
I eventually provided Lindsey with a list of eight themes and asked her to narrow it down to 2-3 options. I always do this with clients so that we can test their top 2-3 choices. I've been in a few situations where the #1 choice proves to be less flexible or requires purchased add-ons to do what it looked like it could do in the demos, so this two-part prioritization is a little bit about managing expectations.
In the meantime, I purchased the Coastal Maine Getaways domain name and hosting services and began to set up the backend of the CMG website with the widgets (Yoast SEO, Google Analytics, etc.) I recommend to all clients.
A surprise twist is that we reconsidered a fourth template and finally landed on using it, Advertica Lite. That's when I started finalizing the website architecture. Luckily, Coastal Maine Getaways is a small company and Lindsey didn't require a lot of pages, but I still put careful thought into this step. As her company grows, I want the website to be flexible and adapt to her growth. Still, with less than 10 pages, this was an affordable website to create.
After that, it was just a matter of getting all of the property details from VRBO onto her website. We experimented with table structures, photo placement, gallery size and structure, and headings. At each stage, I was offering Lindsey options and taking her feedback. Besides the details, there were three fun parts of this step in the process.
SEO
On each page, I used SEO (search engine optimization) best practices since this was a primary reason Lindsey wanted a website in the first place. So we optimized the images, the text and keyword usage, and meta-data.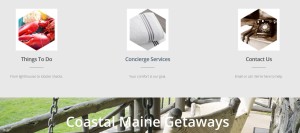 Writing new copy
Some pages, like "Concierge Services" and "Things To Do," required original, new content. Lindsey started with a first draft and I edited it, optimized it for keywords, and found the best structure to convey the info on each page. Overall, CMG's commitment to a clean, simple design made the copy process better than usual since website copy should also be clean and simple!
Going Live
The final step was to begin linking each page to the Coastal Maine Getaways booking links. This meant she was open for business with her own website and I submitted the website to be indexed by Google!
This website was a great experience. I felt like I supported a company from the ground up. Even though Lindsey had been operating for some time, I provided market research to support her choice in a company name and helped her articulate her full brand identity. This was also a relatively affordable process because we utilized a number of free tools, including WordPress, and because I specialize in working with small businesses and non-profits.
If you would like to explore starting a website, or revamping an existing one, please feel free to contact me with questions or ideas. I'd be happy to help!
And if you're looking to book a vacation on the Maine coast, please visit the Coastal Maine Getaways website. After all, your comfort is their goal!