Charleston, South Carolina was a trip full of opposites for me: I battled 20 mph headwinds on my bicycle to reward myself with a visit to the Moon Pie General Store. The muffler on my car went kaput, but my walks on the waterfront were luxurious and sunny. There were many other experiences that created a hodge-podge week in Charleston and I'll describe some of them here.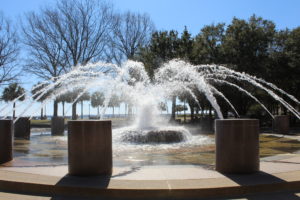 In Charleston, I experienced my first stay through AirBnB. I stayed in North Charleston, actually, with a shy, but friendly guy named Ayo at his condo. The room I rented was very large and sunny, with my own private bathroom. It felt luxurious and probably spoiled me for more modest accommodations down the road!
[Here's a link to $35 in credit with AirBnB. Give it a try!]
My first day in town, I stopped at the Visitor Center, as usual. I loaded up on brochures and magazines and headed over to Glazed Donuts on King Street. I got a donut and an iced coffee and started poring through my options. Quickly realizing I couldn't subsist on donuts, as good as they were, I sought out a more substantial meal nearby.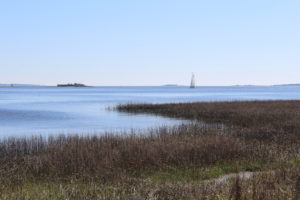 Before that, let me set the scene for you. Charleston has fairly narrow streets and King Street is one of the longest and probably the main tourist thoroughfare. Find a parking spot was surprisingly easy and I decided to just walk up and down this one block for about an hour – not even making it all the way to the end in that time! Compared to Asheville, from where I was coming, Charleston felt decidedly warmer, although the wind was whipping up something fierce.
I found a lunch spot called Closed for Business, which was clearly open for business. I peeked in and liked the vibe: eclectic, comfortable, inviting, with parts of the restaurant feeling airy and others toward the back perfect for hunkering down with friends or mafia associates. I ordered the Business Burger, probably with bacon added on, and soon found out that Closed has the best fresh buns in town. Made daily and delivered, the buns could have served as an appetizer on their own!
The next day, I attended an interesting panel, "Jews and Blacks – Parallels of Our Past." It was an interesting examination of the local parallels (and decided non-parallels) between both communities and some individuals. I applaud the folks who participated and shared their stories, despite the fact that many had definite privileges, such as class and age, they exhibited quite nakedly to the audience.
A few days later, I went out to the Boone Hall Plantation and had another odd experience with race and race history in Charleston. The Plantation is gorgeous, well-maintained, and even still inhabited by its current owners. The staff were very knowledgeable, friendly, and welcoming, but I found it hard to participate in plantation tourism. On the one hand, I think we very much need to continue teaching our history and, to some degree, keep it alive in an instructional way. But I don't know that I want to pay to support former slave-holding plantations and to keep up the story they tell or, rather, gloss over.
One quick example, of how we continue to perpetuate racism and classism at these kinds of places comes in the form of tipping the staff. I attended a Gullah-Geechee presentation at Boone Hall in which the woman, from this background, performed and entertained and was very knowledgeable about the history. She even sang and had a wonderful, moving voice. At the end, we all left and went on to the next exhibit or event. A little while later, I hopped on a wagon and was driven around the plantation by a white man who was also very knowledgeable and entertaining. At the end of this segment, nearly every passenger tipped him. I watched another ride disembark and thought that these white drivers were easily making $25+ (and sometimes much more!) each hour in tips. I did not see anyone tip the Gullah-Geechee interpreter.
I did not know how to react to this experience and I'll probably not visit another Plantation again. These experiences did, however, teach me that our race relations in this country continue to be deeply affected by our past and, also, that many of our prejudices and even actions are motivated by the subconscious need for comfort and/or identification with other human beings.
I was relieved then to visit the Old Slave Mart Museum later in the week. This museum exhibits the history of slavery in Charleston, South Carolina in a blunt, articulate way. Frankly, it was refreshing after hearing about how good some slaves had it in Charleston and/or how much white people have supported black people in the city historically. This museum is worth the visit and it's worth taking a few hours to read the text-heavy exhibits, alongside the very compelling images and artifacts.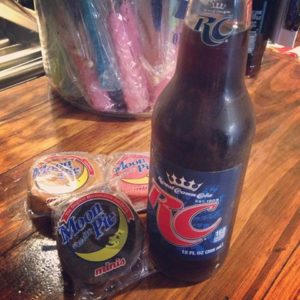 In Charleston, my muffler also decided to die a loud, annoying death. I found The Muffler Shop and delivered my car there for maintenance. I decided to bicycle the 11 miles downtown. Somehow, I found headwinds going both downtown and uptown later in the day. So once I arrived downtown, I treated myself to the Moon Pie General Store. This is a truly wondrous, small place, worth the visit and the calories. It's basically a tiny store, but they also have TVs running moon pie commercials and promotional videos, as well as a small soda fountain in the back. I bought an RC Cola, of course, and three mini moon pies: banana, strawberry and caramel. All three were great – and I hadn't even known such different flavors existed!
The other honorable mentions in the food and coffee categories include Caviar & Bananas and City Lights coffee shop downtown, as well as Mixson Market and Basico in the Mixson neighborhood where I stayed.
Within Charleston, but seemingly a world away, I visited The Citadel, the military college of South Carolina. It was Friday afternoon and I took in their weekly parade. I was delighted to hear that bagpipes lead in the band and Corps. If you haven't seen a military parade before, this would be a nice addition to your visit to Charleston. The campus is easy to find and parking is quite obvious. Then you just head to the large grassy field and stay to the edge or sit on the bleachers. At 1:00 pm, the cadets strut their stuff and report.
I previously mentioned the narrow streets of Charleston. After several days wandering around downtown, it felt like a breath of fresh air to head to the waterfront and Battery Park, then all the way out to Folly Beach. The waterfront walkway probably stretches for a mile or two, making it a nice walk at any time of day. Keep your eyes peeled for dolphins and sailboats. Battery Park also had numerous nice, shady spots and water fountains. I saw one person lounging in a portable hammock strung between two trees and thought he had the right idea!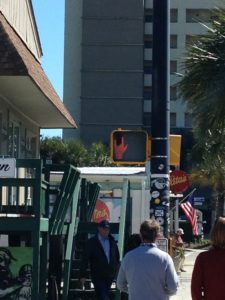 Later, I went out to Folly Beach and dipped my toes in the Atlantic Ocean for the first time on this road trip. The water was actually warmer than the air! So, with a few layers and a jacket still on, I rolled up my pant legs and stepped in. Folly Beach, as a town, kept me occupied for a few hours, including a stop at the Folly Beach Crab Shack, which had excellent outdoor seating opportunities. I nibbled on the Shack's Crab Dip while reading in the sunshine.
I've always been curious about Charleston. I was eager to learn the difference between it and Savannah, two cities that seem so close as to be synonymous from my Vermont distance. So I'm glad I stayed here for a week to learn about the city, to see the beautiful parts of it, and to even experience the history of a southern city and wonder how the race relations continue to play out.
My first experience with AirBnB was also great, so that will become a more real lodging possibility as I continue to travel.
Have you visited Charleston before? What did you enjoy about the city?