Five long miles off The Loneliest Road in America, US Route 50, in Baker, Nevada, population 68, stands a tiny little coffee cart open six days a week from 6:00 am to 3:00 pm. As I sit down to talk with the owner, Rachel Gale, she waves to every local car that drives by and greets her customers by name. It's clear that The Magic Bean Coffee Cart is filling more than one need in this small community.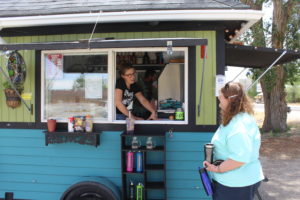 Rachel Gale moved to Baker, Nevada, on the outskirts of Great Basin National Park, in 2012 with her partner, Kevin Loscheider. Kevin was offered a job at the Park and, for a while, Rachel holed up in their yurt. But, constantly craving coffee – they had moved to Baker from Portland, Oregon, after all – they started to see the opportunity to serve locals and tourists good, quality, traditional Italian coffee.
Rachel has worked a lot of different jobs, including on a cruise ship, in Yosemite National Park, at a summer camp on Mt. Hood, and a snowmobile lodge in Wyoming. She's also worked at a number of Portland coffee shops, including Stumptown and Caffé D'art, so she wasn't totally unfamiliar with the industry or the art and practice of serving coffee.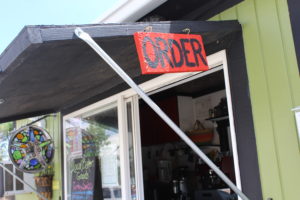 Once they identified the coffee cart model as a real possibility, they asked Rachel's mom, still in Portland, to look for carts for sale. She quickly found one, which required nearly no work to make it ready, and hauled it out to Baker. Her vision is to provide quality coffee – she only serves good shots and isn't afraid to start over so as not to serve a bad pull – and to serve as traditional a line of Italian drinks as possible.
She also carries locally made pastries and sandwiches, sourced from Salt & Sucre, neighbors down the road who want to create and bake, but not start their own storefront. It's a perfect symbiosis. When I was there, they were trying out a few new things, including homemade hummus and veggies and a sandwich with olive tapenade and sundried tomatoes.
Having landed at Great Basin myself for just a few days, I wondered what would draw anyone to or keep them in Baker. It's a lovely community, filled with creative artwork on the roadsides. And the Park is wonderful, but there's a serious absence of storefronts, housing, nightlife, or even shade from the hot summer sun. But Rachel adjusts my assumptions:
"There's freedom out here with all this space," Rachel said. They're drawn to the mountains and the desert landscape. There are no streetlights, billboards, strip malls, or fast food. That's freedom to them.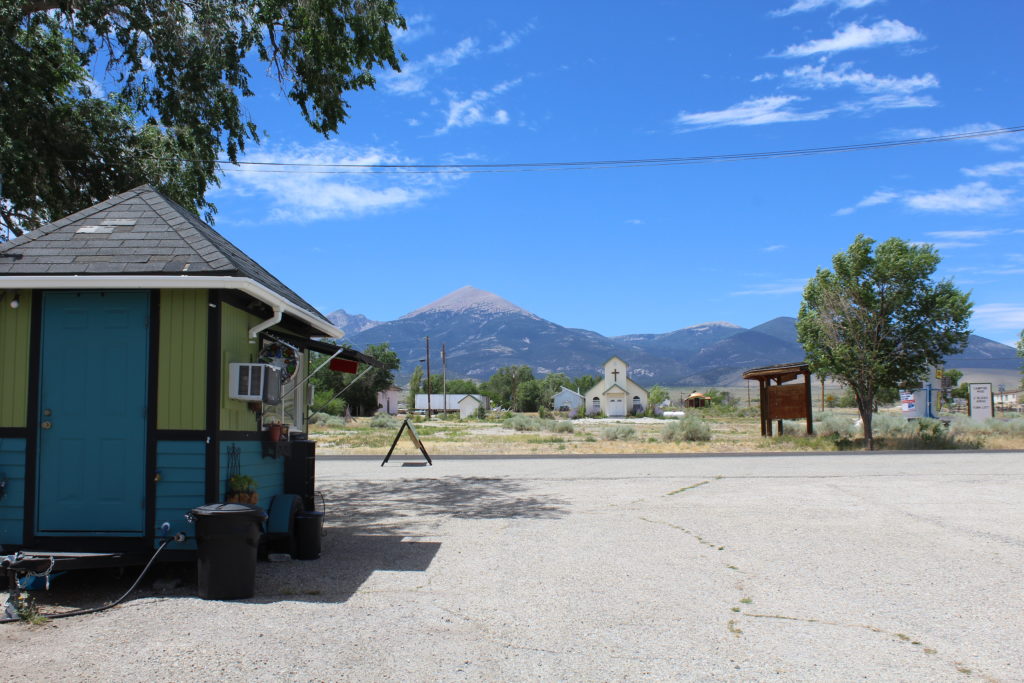 And Rachel and Kevin don't shy away from the idea that their coffee cart and their interactions with customers builds community. I visited every day and saw other regulars there. They're working to bring the Farmer's Market to their lot from an indoor space across the street which doesn't create such a lively street scene. Their food and décor are local and they support artisans who have shops nearby.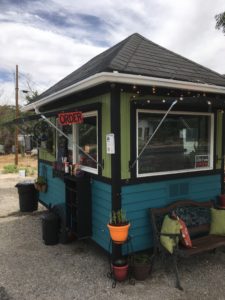 Rachel and Kevin seem right at home in the landscape and in such a small community. In fact, they seem intent on enjoying themselves there and planting roots. The "Magic Bean" in the coffee cart name may just sprout community cohesiveness. For the time I was there, though, I was just glad to have some really good coffee.
Save