Longmont, Colorado is the perfect epicenter for a mountain adventure, whether the priority is hiking, beer, food, bicycling, coffee, or photography. It's 16 miles from Boulder, 30 miles from Fort Collins, 39 miles from Denver, and 43 from Rocky Mountain National Park, but it's a suburb entirely worth its own visit if you want a hub from which to access these locations.
Longmont, Colorado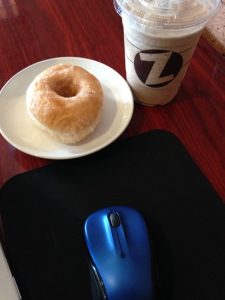 I was housesitting in Longmont, for a family with two dogs. This is an affordable way to travel and work, exchanging animal care, housesitting, and a bit of lawn maintenance for a place to stay. It's also a way to see an area I might not have noticed on the map. I may have chosen the more expensive Denver as a landing spot, but now I know I could easily return to and even live in Longmont.
Longmont, Colorado is a suburb of Boulder, really. This whole area of Colorado is growing and it seems like the population is drifting north, with easy access to I-25 between the most attractive cities.
If you're in Longmont, or passing through, head downtown and check out La Vita Bella Coffee for the best lattes and an underground, rustic feel. Or, visit Ziggi's Coffee just a little further down Main Street. Their Peanut Butter Mocha Frozen Blenderz is a must-try. If you're looking for a more substantial lunch, head over to the Sun Rose Café, which has the most amazing Salami and Pesto Scramble. The dry salami is sharp, but flavorful, the house made pesto has addictive qualities, and the cheese blend is super savory. A decadent day would be coffee in the morning from La Vita Bella, lunch at Sun Rose, and an afternoon treat from Ziggi's.
In between the food and coffee, though, be sure to stop in at Yore. This small shop is hard to describe, offering "a growing collection of useful products that are quality made, well designed and responsibly manufactured." They offer home goods, but also books, decoration, office supplies, and more. The real delight here is in how they display their stock and make it a sensory experience. The store is minimalist and yet warm and bright. The owners are on-hand for questions and conversation and I probably touched everything in the store…each product was that delightful. For example, I saw my first stainless steel straw in Yore, as well as my first bamboo toothbrush.
Rocky Mountain National Park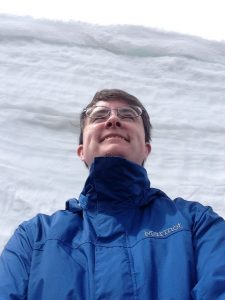 Before I get into RMNP and how cool that place was, let me first give a shout-out to Ink Well & Brew just outside the park in Estes Park, CO. IW&B is a beautiful coffee shop AND paper goods store. Clearly, the owners have combined several passions and it totally works. The lattes were delicious, the upstairs loft and outdoor seating were warm and comfortable, and the postcards, stationery, pens, wrapping paper, and more really inspired me.
But back to the park. Rocky Mountain National Park was a fun and crazy experience. I was there when it was still warm in the valleys – and I camped easily in Moraine Campground. But just up Trail Ridge Road, the 48-mile scenic drive, across the park, snow was piled up 12+ feet and the wind was super crisp.
I drove the Trail Ridge Road twice while there and it was a stunning experience. Reaching 12,183 feet, the Road provides sweeping views of the Rocky Mountains and weather patterns moving around them. There are also several pull-offs (called pullouts in the west) and I took advantage of nearly everyone. Getting out of my car and taking in the largesse of the mountains and valleys was humbling. And since it was a shoulder season in the park, the crowds weren't bad at all.
The Alpine Visitor Center was a nice stop for coffee and lunch, although it was a tad expensive. It was also dark because the snow completely piled up higher than the windows! But, stop in, look around, and buy a postcard.
Boulder, Colorado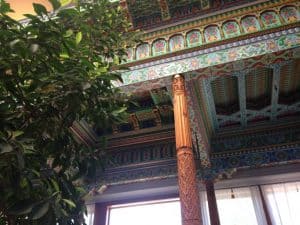 Back down in the valley, it was spring time. I only spent a day or two in Boulder, but it was warm and I felt like I was thisclose to the sun. I bet lotion sells well in Boulder, with how dry it is and how high the elevation.
Two sights to note:
Boulder Dushanbe Teahouse – this place was beautiful and delicious. The teahouse was a gift from the mayor of Dushanbe, Tajikistan in 1987-1990. It is ornate and beautiful and airy and light. The lunch and teas were also great and I would recommend it even if you're just in Boulder for a day.
Celestial Seasonings Tea – HQ is in Boulder and they offer free tours, with freebies, and cups of tea at the end. It's a fun look behind the scenes if you're into tea.
Denver, Colorado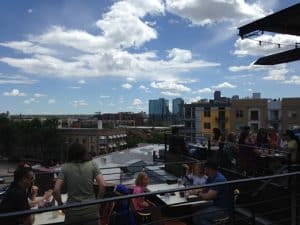 I stopped in to the Denver REI where I bought a new tent. My old tent was beginning to leak and no amount of patching or gluing seemed to help. So, I researched and agonized over tents for a few days and finally settled on the REI Half Dome 2-Person Tent.
The REI is located along the South Platte River. There are wonderful paved paths, pedestrian, cyclists, and kids everywhere. I think I even saw a trolley stop. I really just wandered all over town and window-shopped.
"Linger" is a former mortuary turned restaurant with a stunning rooftop bar. I gladly baked in the sun while enjoying a summer IPA up there. And, clearly, it's a lively place where lots of beautiful people gather. Are all the people beautiful in Denver or was I just in the wrong neighborhoods?
I'm bent on returning to Colorado to further explore Longmont, Boulder, Denver, RMNP, and even Fort Collins. I stopped in to Fort Collins on my way out of the state, so I only grabbed a coffee and a quick bookshop visit! This area is ripe for adventures and I'll be glad to get back there.
Save