Moab, Utah is the perfect epicenter for a desert adventure vacation, whether the priority is hiking, photography, cycling, auto touring, or mountain biking. I imagine that a hot air balloon ride over this area would be pretty darn great as well.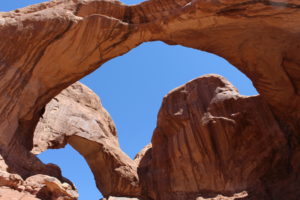 Five miles from Moab, Arches National Park is a big draw. A little further away, 32 miles, Canyonlands National Park is a second great sight to see. And one could also take a quick jaunt over to visit/picnic/nap at Dead Horse Point State Park. Then there are three scenic byways running through the area: Upper CO Scenic River Byway, Potash-Lower CO Scenic River Byway, and Dead Horse Point Mesa Scenic Byway. Between those three, you have five hours of driving, but don't fret too much: the Mesa Scenic Byway takes you right out to Dead Horse Point State Park, so plan on that picnic.
Back downtown, in Moab proper, there are a number of restaurants, bars, shops, and sights to see. Lodging can be tricky at certain times of year. The spring and fall are busy for Moab, since the summer is usually too hot for tourists and in the winter there isn't much of a ski scene. So if you're traveling for the "shoulder seasons," be sure to book a room ahead of time. I didn't and nearly every campsite inside and outside of the park, plus all of the hotels and motels, were booked. I finally found a spot at the Lazy Lizard Hostel, but that might not work for some folks (families, people who don't like bunk beds, etc.)
Based on my visit to Moab, here are some tips for navigating this adventure playland.
Arches National Park
Go early in the day to avoid the crowds. Go early or late in the day for the best sunrise or sunset photography (obviously). Arches visitors were different from other visitors to national parks which I've seen. Or maybe the park is slightly different. The hikes to iconic spots are shorter, so you have families, young people, older people, and people who are not very fit all trying to make it out to certain arches or views. This can make for slow trekking. Or a dangerous trek, as when four young men wizzed by toddlers and people with walkers to mountain bike an arch that 50 people were already walking all over. They disregarded the "No Mountain Biking" signs and I called them out on it. They got off the arches, but sped fast past the toddlers on the trail again.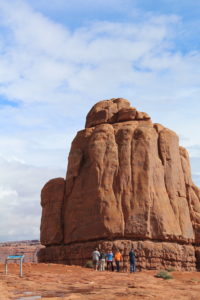 Still, this place is beautiful and iconic. It's also the best example of the five Utah national parks in the region of how delicate and evolving these arches are.
If you're moderately fit, you can drive the scenic drive within the park, starting early in the morning. Along that route, get out at every view-point and take every little hike from the main road. By the end of the day, you'll be tired, hungry, and happy, having seen the Windows (North Window and Double Arch), Delicate Arch, and Park Avenue.
Canyonlands National Park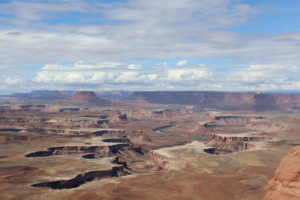 I spent just a day at Canyonlands. It's like a mini-Grand Canyon, without the crowds, so it's a real treat. One can sit on broad rocks at the edge of canyons with spectacular views. At Canyonlands, just take the scenic drive and plant yourself at the end, at Grand View Point for an hour or so.
Dead Horse Point State Park
This state park is very small, but it's beautiful and the scenic drive out there is great too. I visited for a full day, mostly enjoying the views, the little lunch/coffee stand next to the visitor center, and then taking a long lunch and a nap at a secluded picnic area. I hadn't been sleeping well at the hostel, so the hidden, shady, cool, private picnic area I found was such a welcome respite.
The story behind the name of this park is sad. I don't know that I'd recommend it for young or sensitive ears. I'm still reeling from the cruelty that is possible in this world based on the name. So, be advised.
Downtown Moab
Moab has enough restaurants and bars to keep you entertained for the week. My favorites include the Moab Diner, Blu Pig & Blu Bar, Moab Brewery, and Zax. On the coffee front, there's Eklecticafe, Love Muffin Café, Moab Coffee Roasters, and Wake & Bake Café, although the Moab Coffee Roasters are the only ones open mid-afternoon on. And this shop is unique: they serve good coffee, but they're also an ice cream shop and a clothing store. Or at least all of these different shops are in the same space.
Visiting Moab created a lovely flow to my days there: exercise and excitement during the days (plus some naps) with downtown strolls and dinners in the evening. If you don't want to camp and rough it 24/7, this is a great combo, making Moab a solid adventure/vacation epicenter.
A great online resources can be found here with the Moab Area Travel Council.
Have you visited Moab, UT before? Did I miss anything in my tips above?
Save
Save
Save
Save