When I embarked on a road trip across the US, I wanted to see new cities and states, national and state parks, old friends, and new views. As the wheels kept turning, it became obvious that my real purpose was to take a coffee tour across the country. Of course, I knew I was addicted (ahem, passionate) about lattes, pastries, and coffee shop life before embarking on my travels, but the way I enjoyed coffee shops at home had almost become second nature – they had become my "third place" each weekend and even many mornings and evenings.
On the road, my enthusiasm for coffee (and coffee shops) became vital once I could no longer rely on the routines of home. Soon I found myself visiting one or two, sometimes three, new coffee shops in a day. Coffee shops became the places I had breakfast, picked up local newspapers, overheard local chatter and accents, got my caffeine fix, and continued to work for my marketing clients.
On August 30th, I rolled into Eugene, Oregon and visited my 100th coffee shop on this, so far, seven month road trip across the United States. Tailored Coffee Roasters was a great landing spot for my 100th and I enjoyed a small iced caramel latte, a slice of really great avocado toast, and good conversation with the barista.
Here's a best-of recap of the 100 coffee shops I've visited in the previous seven months.
But first, some notes and disclaimers:
This list is not exhaustive. I've only listed the coffee shops I remember something great or distinct about, something work commenting on besides "good latte."
This list doesn't include major chains. I'm sure a few small chains are on my list, but I wasn't always aware I was at a chain until I looked on the company website. Still, I've done my best to not count major chains in my list of 100.
Joule Coffee, Raleigh, NC
Joule Coffee was classy, including the table service and waitstaff. I nabbed a nice window seat, giving me a great opportunity to people-watch.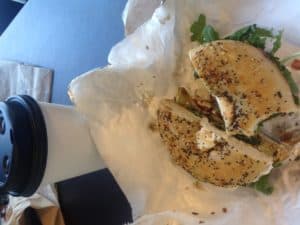 Clingman Café, Asheville, NC – now called Ultra Coffeebar
Quite possibly my favorite coffee shop from this trip. I housesat in Asheville for 16 days and this coffee shop, in the arts district, became my remote office as I worked on a few big client projects. They have reliably great lattes, amazing breakfast sandwiches, and delicious pastries and cookies. Their staff was also super friendly and knew my name within a few days.
Vortex Donuts, Asheville, NC
A coffee shop habit can easily become a donut habit and Vortex did not disappoint. Amazing donuts, great coffee. Not enough seating, though, so arrive early on weekends, and be prepared to order and jet.
Revelator Coffee, Atlanta, GA
Simple coffee done right. Plus, I could move into their shop and live there I loved the décor so much. The whole Atlanta coffee scene is popping right now and the aesthetics are usually industrial-comfy.
Octane Coffee, Atlanta, GA
Great lattes plus Little Tart pastries, plus that whole open, bright warehouse feeling.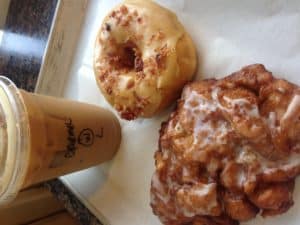 Revolution Doughnuts, Decatur, GA
Worth the trip outside of Atlanta. Great latte + donuts, smallish space, cozy, friendly.
Wild Mountain Bakery & Café, Murray, KY
Solid lattes, GREAT sandwiches and pastries. Arrive early to get the best selection.
Alta's Café, Austin, TX
A coffee shop on the water – such a great experience.
Irie Bean Coffee Bar, Austin, TX
Rasta vibe, hammock chairs, outdoor patio, DJ. This place was an eccentric example of how much is going on in Austin – for food, coffee, beer, music, you name it, the scenes are unique, relaxed, and top quality.
Caffe Medici, Austin, TX
Great latte plus vibe/space. These folks are worth the follow on Instagram.
Batch Café & Bar, Tucson, AZ
This place was insane! Check out my blog post on Batch. This place has coffee, but I'd only order a cup after a donut or "adult cereal" or a salad. Still, after a few visits I did order a coffee and it was great.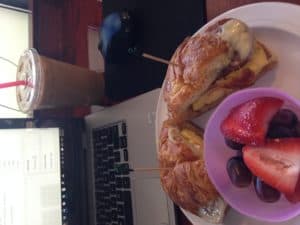 Roadrunner Coffee, Tucson, AZ
I needed to buckle down and finish some projects in Tucson so I didn't go out much. Still, I needed a caffeinated outpost for work and Roadrunner was great. They have good lattes, but also creative other drinks, like the Ragin' Roadrunner (chocolate sauce + banana syrup) and Matcha Mist Green Tea. Their food is also wonderful and it's a quiet place to work or catch up with friends, very welcoming. Try the Big Kahuna, a croissant with eggs, grilled spam, pepper jack cheese, and Habanero spread.
Deep Creek Café, Springdale, UT
If you find yourself at Zion National Park, do your best to make it to Deep Creek. They have amazing food – I kept trying new sandwiches/meals and all were amazing, plus great lattes and probably the only wifi in town. It's a tiny space, though, so arrive early to carve out a spot.
Ziggi's Coffee, Longmont, CO
While housesitting in Longmont, Ziggi's became my go-to coffee spot, especially once I got a taste of their Peanut Butter Mocha Blenderz. It was also a great space for digital nomads, with friendly staff, and a light, open space.
Ink Well & Brew, Estes Park, CO
Ink Well might be my second favorite coffee shop so far because not only did they have delish lattes + pastries, but it's an amazingly cozy space, with a warm loft and, the real cinch: it's a stationery story! This is where I got the real desire to write more postcards and letters to friends. The space was inspiring, warm, and inviting. It's rare that a coffee shop can do double duty, but these folks are pulling it off.
Sugar House Coffee, Salt Lake City, UT
Vibrant space and buzz in the crowd, great latte, plus they had little snack dishes for sale which was perfect for the coffee date I had there. I didn't need a full meal or even a pastry, so the snack dish, with nuts and goldfish, was perfect.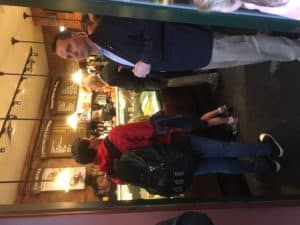 Paradise Bakery & Ice Cream, Aspen, CO
In Aspen, I camped for five rainy days and nights at the top of Independence Pass. As I came down off the mountain each day, to my volunteer gig at Wanderlust in Snowmass, I stopped at Paradise for a hot latte and warm pastry – just what I needed after the cold, wet nights. Plus, BONUS: one evening as I was enjoying an ice cream and some outdoor musicians, Vice President Joe Biden came cruising into the shop!
Magic Bean Coffee Cart, Baker, NV
Six miles off The Loneliest Road in America, just outside Great Basin National Park, sits the tiniest little coffee cart. Read more about it here.
Coffeebar, Truckee, CA
I was camping in Truckee and there were active bears in and near the campground, so I was hesitant to cook at my campsite much. Coffeebar really made a difference, with solid lattes, great wraps, and a nice place to land off the main strip of Truckee.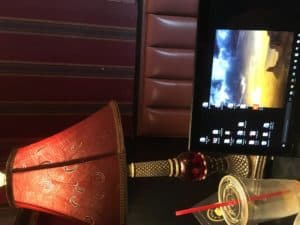 Mia Cuppa Café, Fresno, CA
This place had personality galore. I especially loved the small booths, which were perfect for us digital nomads working and needing some privacy amidst caffeine and comfort!
Hearth Coffee, San Francisco, CA
In San Francisco, I had a hard time finding coffee shops with enough space for seating – or empty seats. When I go for coffee, I like to sit for at least an hour, but SF seems to be on the go all the time. Thankfully, I found Hearth and a seat at the bar across from a chef who was handling his business. You could tell he respected his craft, his tools, his space, and the food. I told him as much when I left, but you can still go and enjoy a latte and a delicious breakfast flatbread for yourself.
Dudley's Bookshop & Café, Bend, OR
I've wondered if I missed more coffee/bookshop combos on this trip, since this one in Bend was my first. As a coffee shop lover and an avid reader, this was a little slice of heaven.
A Leap of Faith, Klammath Falls, OR
At this shop, I had a snappy peppermint latte and a pizza sandwich. This sandwich was definitely in the Top Five on this road trip, with sliced pepperoni, olive tapenade, aged provolone cheese, and tomato on grilled sourdough bread, served with a slice of pineapple and a piece of chocolate.
Old Town Coffee & Chocolates, Eureka, CA
Old Town was a great digital nomad space, PLUS they had maple lattes, which I had rarely encountered since leaving Vermont. They also had chocolate-dipped cherries, which I treated myself to on more than one occasion.
As I mentioned above, this list isn't exhaustive. This isn't even 25 out of the 100 coffee shops I visited, but these are the super notable ones.
In writing up these comments, I realized that there are many other factors, besides coffee, that make a coffee shop memorable. First, for me, there needs to be space to sit for an hour or more and even pull out and plug in my laptop. Second, even though I don't think I go to coffee shops for the food, clearly food can make the visit memorable. And third, I enjoy a certain range of aesthetics and vibes in coffee shops. I appreciate a space that's been intentionally designed or decorated, comfortable, warm and inviting, but not packed too tight or too loud.
In these seven months, I've grown to love the breadth, depth, and diversity of coffee shops across the United States even more than I did at home in Vermont. It's been really eye-opening to see 100+ coffee shops and I look forward to seeing more in the coming months!
Save
Save