Savannah, Georgia is a real charmer of a city. I was there for a week in early March and enjoyed the mellow, southern combination of cafes, art, history, and the waterfront.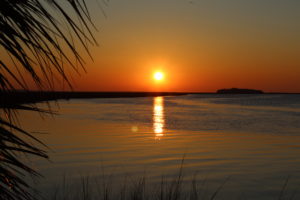 I camped at Fort McAllister Historic State Park, about 40 minutes south of the city. This was a GREAT park and I highly recommend it, although I do wish I'd been closer to the city on most days. Still, the Fort had friendly staff, wifi at the Visitor Center, and level, sandy tent pads that made my visit comfortable.
Early in my visit, I stopped into The Coffee Fox for a snack and a drink. This is when I started to observe the business casual of the city and got into the groove, plotting out what I would visit and when.
The SCAD (Savannah College of Art and Design) Museum of Art was a particular delight. Housed near the Savannah Visitor Center and the Georgia State Railroad Museum, this complex could occupy visitors for a day or more. At the SCAD Museum, I particularly enjoyed Daniel Arsham's exhibit, which worked with unique materials, like Styrofoam or fiberglass, to create three-dimensional pieces. Some, like "Hooded Figure," were right out of my nightmares. While another, "Wall Excavation" provided a slightly interactive experience as I wandered among each wall and the shapes that had been "excavated" out, from the tiny square in the beginning to the full, human shape at the end.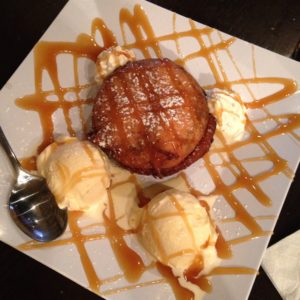 Skip the tiny café in SCAD and head across the street to the Distillery Ale House. I may have had a salad and a beer, but all of my memories of this place are overshadowed by the fried moon pie I ordered for dessert. This is an experience NOT to miss! At first, I thought it would be overwhelming and I'd just take a few bites. Much to my chagrin, I finished the whole thing. It was worth it.
The Georgia State Railroad Museum was also a pleasant surprise. Formerly the hub of a bustling industry, the site is now a National Historic Landmark battling back the ravages of time and weather. The gutted and crumbling buildings are worth the look alone, but so are the dozen or so different engines, steam, diesel, etc. There are regular tours scheduled and I showed up on a very slow day, only to be given a personalized and very informative tour. It was especially fun to go inside two restored, period-specific executive cars. What a throwback! Also, don't skip the videos, which give visitors a good glimpse into the history of Savannah and trade via rail.
On the coffee front, because that's always my priority, special mentions go to Savannah Coffee Roasters, Gallery Espresso, Espresso Hill, and Collins Quarter.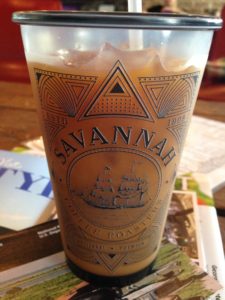 Savannah Coffee Roasters, with a large space right on Liberty St., had great coffee, food, tables and wifi. They became my regular and reliable work spot. I would highly recommend the lemon bars if they're available.
The other three coffee locations also provided great coffee, food and unique environments. But I noticed that my kind of coffee shop was hard to find in Savannah. I look for good places to work along with my coffee, so I need wifi, not-tiny tables, electrical outlets and an atmosphere in which digital nomads are welcome. Collins Quarter was highly recommended as a good coffee shop – and it was – but it was more of a French café than a work spot. Gallery Espresso was a very comfortable place, but it's hard to work on a laptop in a comfy chair or sofa. Plus, this place was totally packed every time I visited.
Espresso Hill was a little place in Richmond Hill, near Fort McAllister. One day I decided to stay close to camp, getting work done, doing some grocery shopping, and puttering around with camp chores. My stop into Espresso Hill was delightful! They had everything I needed: tables, plugins, wifi, friendly staff, yummy food and excellent coffee. This was actually the first place where I was given ice options with my iced latte. I could get ice cubes, shaved ice, or ice cubes made from coffee. I went with the ice cubed coffee, no doubt!
Richmond Hill has an interesting history I was glad to discover. On Ford Avenue, which should have been telling, stands a small house which serves as HQ for the Richmond Hill Historical Society and Museum. I stopped in on my day "off" and stayed for two whole hours! They have an excellent video on the history of the area, including the deep involvement of Henry Ford, of Ford Motor Co., in the development of the area. As a native Detroiter, I was so intrigued to learn that Ford had a home down here!
Roy "Hub" Hubbard, the Museum manager and curator, did an excellent job of showing me around the place and giving me supplemental information – and conversation – on top of the video and displays.
Back in Savannah, the Jepson Center was a fount of artistic fun. One exhibit, "I'll be Your Mirror: Interactive Reflections" offered visitors the chance to interact with, and affect the art. Check out this video of Daniel Rozin's PomPom Mirror: Jepson Center, Savannah, GA
Of particular note was Jonathan Schipper's Slow Room. A living room was on display, but there was a curious hole in the back of the room with many strings coming out of it and each attached to a different object in the room. The staff said that, at various intervals, a mechanism pulls the strings slightly closer to the whole. So I saw the room pictured below, already in the beginning, but clear, stages of disarray. The staff I spoke to told me which things had already fallen or broken or spilled. This was such a clever and interesting piece.

I do think, though, that the Jepson Center missed out an opportunity to live-stream the room to visitors. If I had gotten a link and a password with my ticket, I'd still be checking on that room! I at least hope the photographed Slow Room regularly to document the process. Or was it meant to be totally temporary and somewhat ephemeral?
Another place worth mentioning in Savannah, Georgia, is the Civil Rights Museum. From the outside, the building looks small and nondescript, but inside is a rich and detailed history of civil rights for African-Americans in the United States and in Savannah specifically. There's a diner counter at which one can sit and press one of two buttons. One will give you the environment had you been Caucasian in the 1960s at this counter and the other had you been African-American. The difference is visceral. At this museum, don't skip the videos. Some are tucked away and another is played on a big screen. The small screen videos were engrossing, but were too long to be standing in one awkward spot for 20+ minutes. Had I been able to sit, I would have watched all of the videos all day; they were well done and interesting.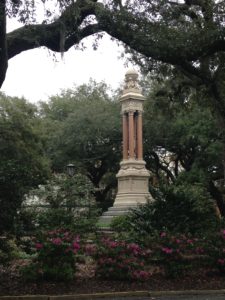 Savannah is a wonderful city in which to enjoy the outdoors. Of course, the place is known for it's mossy trees, streets and squares. Those were always enjoyable and I covered many miles just enjoying the flora, the weather and the residential architecture.
Later, I found out – from The Shrimp Company downtown – that Savannah is only one of a few cities in the US in which you can walk around outdoors with alcohol. The others include Key West, Las Vegas and New Orleans. I didn't try this myself – I prefer to maintain a somewhat sober image – but it was fun to talk to the bartender and other patrons about.
Near Savannah, Tybee Island provided a nice day trip. The commercial opportunities there (restaurants, coffee, shopping, etc.) are minimal, but provide for just the basic beach needs. Otherwise, one has miles and miles of beach to enjoy.
I really enjoyed Savannah, and its environs. I could see myself wintering in the city and even just vacationing there again. Next time, I would probably stay closer to downtown and take further advantage of strolling those squares in nice weather.
What do you think, did I miss any good coffee shops in Savannah?
Save