I recently attended two Wanderlust Festivals – in Aspen-Snowmass, Colorado and Squaw Valley (Lake Tahoe), California. They were wonderful experiences, full of yoga, music, food, fun, and new friends.
After my first Wanderlust in Aspen-Snowmass, though, I didn't feel like I'd taken advantage of the whole experience so I changed my strategy a little bit at Lake Tahoe. If you only have the time or money to attend one Wanderlust, I offer these tips to help you get the most out of the experience.
Volunteer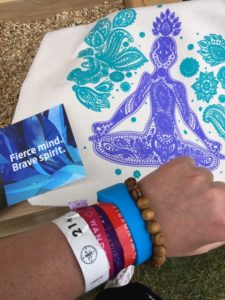 At both Wanderlusts, I volunteered. This help offset the costs and I would highly recommend it to anyone wanting to attend. Even if you can afford the full price tickets, volunteering is a great way to get to know the lay of the land and meet new people. All the people I became friendly with were ones I met through volunteering. Of course, I met others in workshops and sessions, but the bonds that arise when you're working create a different vibe than ones just formed through a few minutes of yoga or conversation.
If you can arrive early, I would recommend volunteering for set-up. This will get you there before the crowds and you'll learn about where all the workshops are. This is a surprisingly important part of attending Wanderlust since these big events at big ski resorts can have zones in far-flung and remote places or even just labyrinthine conference centers.
The volunteer descriptions are accurate, although I found the shifts on the last day to be rather slow. By this point, everyone is a little tired and there may not even be enough work to go around. If you want a fast pace, volunteer to be a runner, work at the registration zone, or help with set up. Volunteering at the yoga sessions feels like flooding followed by drought: you'll get a mass of people checking into the session and then it's all quiet for the duration of the session.
For all volunteer shifts, bring sunscreen, water, a snack, and even something to do during the possibilities of a slow period, like a book or your iPhone.
Yoga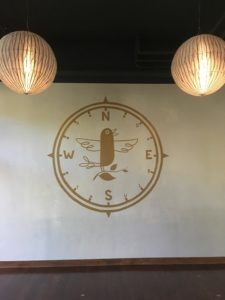 Wanderlusters go for the yoga, of course. And the schedule is jam-packed with excellent yoga sessions with some of the best and most exciting yoga instructors out there.
I would recommend, first, being honest about your level of yoga experience. Some of the classes are extremely difficult, some are easy, and some are very energetic. I heard many instructors encouraging attendees to do what felt right for their bodies and to modify poses as necessary, but I know I feel very self-conscious when I realize I'm way over my head in a yoga class. Do what's right for you.
I also heard a lot of attendees talk about how tired or sore they were because of how many yoga classes they took. Pace yourself. Or, I'd recommend picking some kind of theme for your attendance at Wanderlust. Maybe you want to try the teachers you've admired from afar. Or maybe you want to try a kind of yoga not taught in your hometown. But don't wear yourself out, especially considering how much music and partying is also offered at Wanderlusts. And, see "Rest" below.
Meditation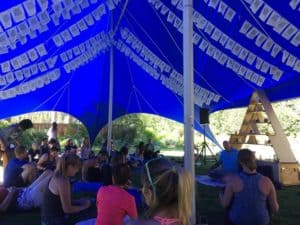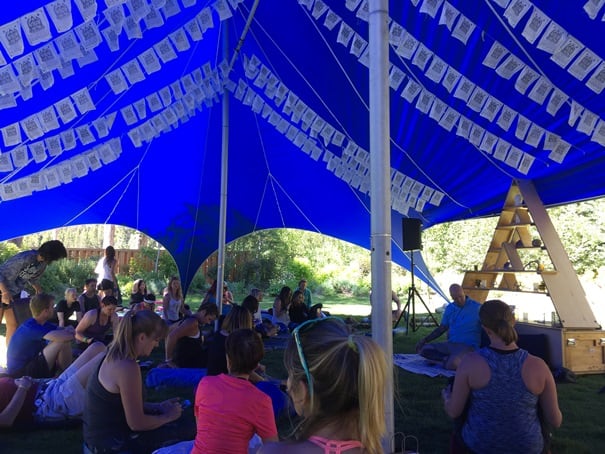 I really went to Wanderlust for the meditation and the food, I'll be honest. And the meditation sessions I attended were great – skilled instruction, thought-provoking discussion, and blissful peace in beautiful settings.
Attending a meditation session is a great counter-balance to the tons of yoga, food, and music offerings. I would recommend sitting 1-2 times per day, either with a scheduled class or on your own. The Wanderlust locations are ripe for finding a spot with a view and just sitting for 20 minutes.
Food & Drink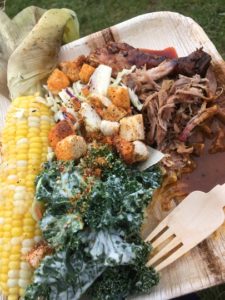 I was surprised at the quality and quantity of the food and drink offerings at both Wanderlusts I attended. For some reason, I thought there might be a plethora of rice cakes and beans, but I overlooked how big of a "market" the yoga "industry" is these days. The vendor areas offered no shortness of food and drink – and all of it was incredibly yummy. I tried Bulletproof Coffee for the first time, as well as munched on veggie burgers, kale chips, juices, Indian food, tea, smoothies, and more. Much of it was given out free and liberally in one vendor area and another area offered food for sale. You may not have to budget as much as you'd think for food at Wanderlust.
I was also delighted by the Salt and Smoke dinner hosted by Wanderlust Chef Kevin Callaghan. At first, I worried and wondered if the ticket price was too high. I think it was $40 or $45. Let me tell you: it was totally worth it. The BBQ was amazing, the sides were excellent and abundant, the dessert was to die for, and the vendors offered additional, and copious, high quality adult beverages.
For me, the food was the highlight of Aspen-Snowmass.
Music
Both Wanderlusts exposed me to some amazing musicians I had never heard before. I attended big concerts and smaller, more intimate sessions with Magic Giant, Elijah Ray, Son Little, Xavier Rudd, and several others.
Some of these are indoors, in smaller sessions, at cafes, or around the venue, but several are in larger areas with big stages. Plan to dance, but bring a blanket or camp chair just in case too. All the acts at Wanderlust Festivals were not only talented, but very inspiring. The music folks are the Wanderlust organization are really on top of their game.
Wander
I recommend taking some time to wander at a Wanderlust for several reasons. First, there can be a lot of people at these events and if you're even slightly introverted, you'll want to carve out time to yourself. Second, Wanderlusts are set in amazingly beautiful places. So, check out the hiking opportunities nearby or even just hike up and down the ski slopes rather than taking the gondolas from one area of the resort to another.
Third, I felt like the Festivals gave me a lot to think about. Yoga and meditation tend to do this for me normally, but these Festivals are introspection on steroids. Take some time to wander (or nap or journal – see below). And, finally, honor the name of the festival, which is, after all, about the desire to move and travel. Explore the location of the Wanderlust Festival you're attending, including the resort grounds, all the little pocket venues, and the towns around the Festivals. I, for example, found a great number of coffee shops in the Aspen-Snowmass area when I explored during my down time.
Rest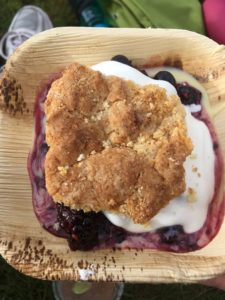 The two Wanderlust Festivals I attended were intense. Between volunteering, walking all over the place, doing yoga, meditating, eating, drinking, and dancing, you also want to take care of yourself through good, old-fashioned naps. And if you can't get back to your own place to do this, allow yourself the opportunity to sneak away to the car or even doze off on some green space in the shade if you can.
I wouldn't want you to miss out on any of the action, but one of the themes (I think) of Wanderlust is self-care. Why else would we be doing all this yoga and meditation? So, plan some nap time, or even just time to journal, walk, or sit alone for a bit.
Wanderlust Festivals are nearly too much fun, if that's possible. If you've always been curious about attending one, as I have for several years, it's worth the splurge on tickets and travel. Your own experience of Wanderlust will be unique, but I hope these pieces of advice can help you make the most of your trip right from the get-go.
Have you attended a Wanderlust Festival before? What advice would you add?
Save
Save