I specialize in designing affordable WordPress websites for small businesses and non-profits, as well as managing websites for larger organizations on various platforms.
This is a subset of my larger marketing / digital / social media work, just like photography and writing are, but it's one that has proven very rewarding. It's a real delight to help a client identify their website needs, goals, and wishes, find the right WordPress theme, populate the site with gorgeous and effective content, and then provide ongoing support.
As one client said, "This is a beyond sexy website. I absolutely love it!"
WordPress Website Examples
Coastal Maine Getaways
The vacation properties managed by Coastal Maine Getaways were listed on VRBO (Vacation Rentals By Owner), which didn't provide CMG with their own branding or with enough opportunities to customize their listings.
In building a website, we were also choosing a name for the company, articulating the brand, and then finding the right WordPress theme with which to communicate that. The results were a clean, relaxing, mobile-friendly website inviting customers to start their Maine vacation with Coastal Maine Getaways:

IMPACT Conference
The IMPACT Conference team had an existing WordPress website, but they didn't feel it reflected their youth-focused civic engagement mission. Also, the site had gotten a bit unruly over the years, with a lot of people adding pages and documents, and others needing access to the dashboard to update information.
I started by listening to their needs and inviting them to build a wish list of updates and projects. Then I mapped the existing site architecture and cleaned it up. Once we found the right theme, the site provided a lively, flexible and manageable hub of information for their national event: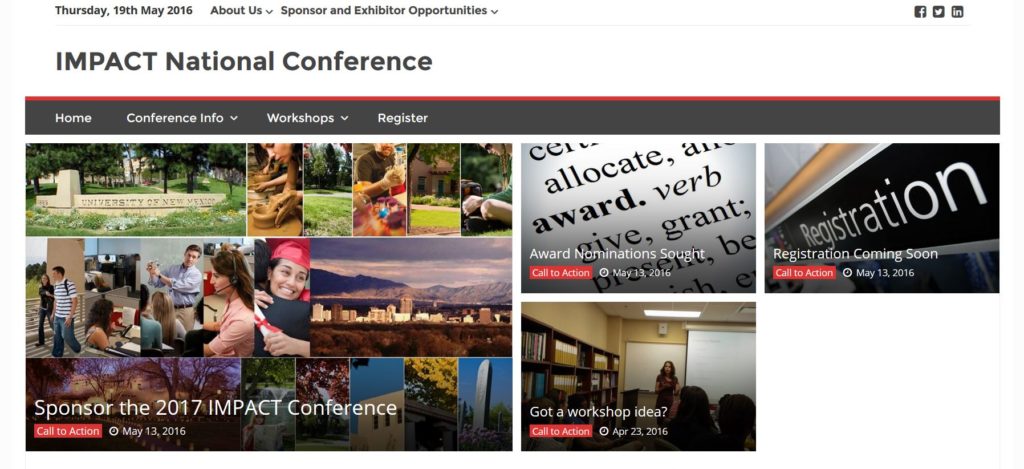 Note: the images above are linked to the client websites. Those websites may change over time.
Your Website
If you need a WordPress website or if your current website needs an overhaul, we should talk! Fill out this quick Contact Form to start the conversation.
We'll first identify your general needs and then I'll provide a "scope of work" based on what you've told me, including a project cost.
References
Laura Megivern, IMPACT Conference Chair:
"Michelle completed a full website redesign for us at the IMPACT Conference. She was great to work with – flexible, prompt, and really took the time to understand our unique needs, organizational history, and capacity in order to find sustainable solutions for us. I highly recommend Michelle for organizations looking for marketing and design work!"
See more references on LinkedIn.
Looking for Other Services?
Save