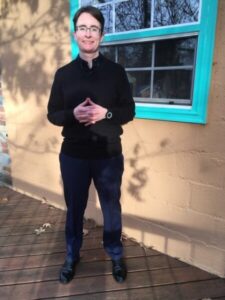 I'm a freelance marketer for nonprofits, colleges, and universities, and I specialize in digital marketing. I have twenty years experience in higher education and nonprofits, fifteen specifically in marketing. I'm motivated to move people and money for the causes we care about using both traditional and digital marketing.
I specialize in:
Blogging
Social media
Enewsletters
Digital advertising
Online fundraising
Website management
Integrated (offline + online) marketing campaigns
What I really do:
Get meaningful results
Use your budget efficiently
Take the stress out of your marketing efforts
You can see an overview of my career on LinkedIn, and here are a few specific successes:
Increased inquiries 86% to a liberal arts college
Increased online revenue 67% for a statewide nonprofit
Raised 305% of a crowdfunding goal for an international nonprofit
Negotiated a 33% decrease in advertising costs while increasing impressions 600%
Designed a marketing plan for a downtown development organization after a natural disaster
Launched integrated (offline + online) marketing campaigns in five metropolitan markets, leading up to a national campaign
Managed the Google Ad Grant of a national nonprofit, increasing impressions 129% and clicks 108%, while optimizing for donations and email sign-ups
Clients, Conferences, and Employers

I tailor my work to your organization's specific needs, with respect for your staff, budget, and mission. My client list is below, including former employers and a few conferences at which I've presented. You'll see that my clients span sectors, organizational size, and budget capacity.
AmeriCorps VISTA
An Economy of Our Own
Anza-Borrego Foundation
Approach Therapy
BabySafe Project
Beast of Burden Challenge
BucketList.org
California Psychological Association Division VII
Center for Arts & Learning
Cinema Systers Film Festival
Coastal Maine Getaways
Comedian Amy Tee
Concord Direct
Community College of Vermont
Cultural Crossroads
Etsy Shop: Aquarter After
Goddard College
Grassroots Environmental Education
Green America
Green Mountain Club
Honey Holistic Esthetics
Idealist Careers
IMPACT Conference
International Institute of Rural Reconstruction
Izzy's Coffee Den
Jupiter Flow Yoga
Keri's Kures Teas
Montpelier Alive
Montpelier Bridge
Motivational Moments
Murray State University
Network of Empowered Executive Directors (NEED)
Northeast Regional Campus Compact Conference
Northfield Senior Center
Norwich University
NT Factor
Palo Alto University
Project on Civic Reflection
Reading Partners
Revitalizing Waterbury
SafeHouse Web
Sara Nasserzadeh, PhD
Society for Organizational Learning
State of Vermont Downtown Program
Steep Trajectory, LLC
Transformational Touch Therapy
Tunbridge World's Fair
Unchained At Last
Vermont Beekeeping Supply
Vermont Campus Compact
Vermont Foodbank
Vermont Technical College
Vermont Women in Higher Education Conference
Professional / Volunteer Service
These are organizations with which I've volunteered my time. Please visit my LinkedIn profile for more details.
Bluegrass First Class
City of Barre Information Technology (IT) Committee
Friends of the Kirk-Bear Canyon Library
Montpelier Arts Fund Committee
Montpelier Art Walk
MOSTe: Motivating Our Students Through Experience
Mountain Pride Media / Out in the Mountains
New England Museum Association (NEMA) Annual Conference
Northfield Boys & Girls Club
Vermont Association for the Blind and Visually Impaired (VABVI)
Wanderlust Festivals
WNUB 88.3 FM
Recommendations & Referrals
Read what some of my clients have said about our work together.
I can also offer referrals for graphic designers, photographers, videographers, PR firms, print services providers, writers, copy editors, and other professionals.
Power Hours
For nonprofits and some small business owners, I offer a unique service: we can arrange a 60-minute phone call at a reasonable rate. This is not the same as a discovery call (see below), but is useful for those who already have a list of marketing questions and need concise assistance, action steps, or ideas.
What's the next step?
Fill out this quick Contact Form to start the conversation.
I'll respond ASAP to set up a phone call. This 30-60 minute discovery call is entirely free and will help us determine whether we would like to work together. If we would, I'll develop a proposal / scope of work.
I look forward to hearing from you!
Looking for Other Services?