How do I even begin to describe my recent visit to Big Bend National Park? The experience was a story of contrasts and expansion.
To start, let me say that I'm a Midwesterner (born and raised in Detroit, Michigan) who went to college and lived in western Kentucky and Tennessee (Murray, Kentucky and Paris, Tennessee). And I've lived in Vermont since 2003. I'm used to a few environments: cement, sprawling farmland, and mountainous greenery. Big Bend was really my first experience with a desert landscape.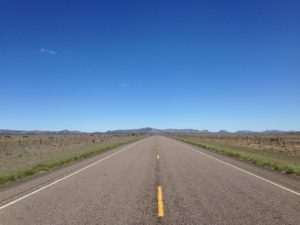 As I drove – and drove and drove and drove – from Austin through west Texas, I was amazed that my horizon line was so low and clear. I could see for miles and miles. As I got closer to Big Bend National Park, I felt like I was entering an alien landscape. My eyes searched for greenery and a bit of shade. I dodged snakes that stretched across the entire lane. I wondered what the little, furry dark spots were in the road until I slowed down and realized they were tarantulas! And my mind, really, wandered the sandy, rocky landscape with a serious tinge of fear.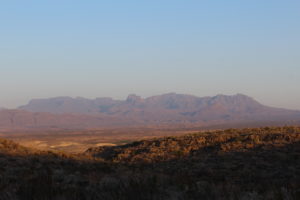 My thoughts, in the first few days of my visit, were on historical exploration and death. First, I couldn't help but think this is a landscape in which I could easily die for lack of experience. And what a way to die it would be. Second, how courageous (or desperate or crazy) the first inhabitants and explorers of this region might have been. Had they been native, they would have had more experience, certainly. But I imagined the first European and white settlers roaming west and wondered what went through their minds.
Did they carry enough water? How did they navigate the canyons and flash floods? Did they travel during the early morning and evenings or did they bear the brunt of this heat and sun? Now I'm curious to learn more.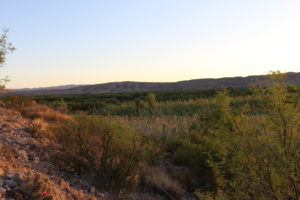 But my visit was firmly rooted in modern times. I stayed in the Rio Grande Village Campground, which has a camp store, wifi, toilets and showers. The campground, about a ¼ mile away, is green and somewhat shady, with a variety of sites that can fill up quickly November through April. To keep the campground this green, they irrigate (read: flood) the campground every six weeks. On my last day there, I got to see this happen and it's odd indeed. Still, I was grateful for the shade of the trees.
Rio Grande Village is on the southeast side of the campground, more desert than anything. I had quick access to several good hikes, including the Daniels Ranch hike down to the Hot Springs, the Boquillas Canyon Trail, and even a short nature trail from the campground which led to a perfect sunset overlook.

I hiked all three of these trails and enjoyed them. None were too difficult and the handy guide you're given at the Park entrance details times, distances and elevation changes. The Hot Springs can be accessed via a short trail from a parking area, but I chose to hike the six miles (round trip) from Daniels Ranch. I started early, about 7:30 am, and took almost exactly the prescribed three hours to do the round trip.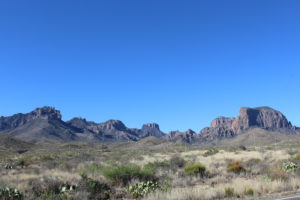 A word of caution: start your desert hikes early! As I was returning, I ran into two couples just heading up the trail. I was already sweating and burning, but they looked how I felt. Still, the hike is entirely manageable if you take water, wear sunscreen or protective clothing, and take the time to enjoy any shady spots you find.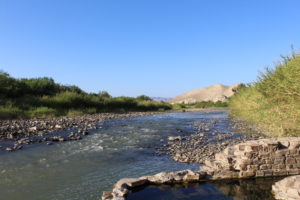 On that particular day, the temps just seemed to soar. When I finally thought to check, it had reached 105 degrees at 5:00 pm! Who knew what it was at high noon? By the way, the hot springs are normally 105 degrees, so the water didn't feel that special. I didn't expect it to, but what good is a hot springs in a desert?
Hiking the short Boquillos Canyon Trail was an entirely different experience. Short, shaded (in the morning) and down to the Rio Grande, it was beautiful, cool and secluded. I could have waded to Mexico – in fact, there's a day-crossing allowed at Boquillos with passport – or tossed a small pebble. I did neither, but I did look up at the towering cliffs this little river has carved into for millions of years.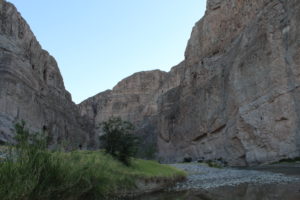 About 20 miles to the northwest of Rio Grande Village, and offering a good first stop as you come deeper into the park, is Panther Junction, where there's a Visitor Center, gas station and some groceries tucked into the gas station. At Panther Junction, I browsed the souvenirs, watched a 20-minute movie on the Park, bought a copy of Edward Abbey's Desert Solitaire, utilized the wifi and dropped off postcards at the Post Office. If you're curious about the movie, be sure to ask the Ranger to show it. Unless there are several people there or someone asks for it, it's not on a regular schedule.
Travel further west and the Park gets more interesting. Three miles west and six miles south of Panther Junction you'll find Chisos Basin. Here there's a lodge, campground, Visitor Center, camp store, restaurant and bar. You'll also find many more hiking trails, including the Window Trail (an iconic spot), Emory Peak (the highest point in the Park), and Lost Mine Trail, among others.
I visited this area a few times, mostly for the AC, food and indoor wifi. The restaurant is worth 1-2 visits for breakfast and lunch but isn't anything to write home about. Seriously, I think their dinner menu is just their lunch menu with more expensive prices. Still, the view from the dining area is beautiful and it can be nice to have a beer after a hike (did I mention the AC and wifi?).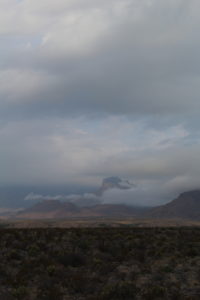 On the day I meant to do some hiking in the Chisos, a huge storm rolled in. Over in the Rio Grande Village, it was just very windy (30+ mph winds at night, warranting extra guy lines and stakes on the tent). But as I drove west, I saw clouds for the first time in the Park. They were gray and somewhat ominous and they hugged the Chisos as if they were asking for much-needed directions.
As I drove deeper into the Chisos Mountains, it started to drizzle and visibility in some places was just a few car lengths. I knew I wouldn't be doing any hiking, so I headed back to camp.
On one of the hottest days in the Park, I decided do as much of the driving as I had planned to do. From Panther Junction, I continued west 30+ miles, skipping the turnoff for the Chisos Basin area and eventually leaving Big Bend National Park. I drove out to Terlingua and visited the "ghost town." I wouldn't say this was worth the visit – it's half ghost town, half tourist trap – but it was so nice to finally get cell phone reception. I made my phone calls and headed back east.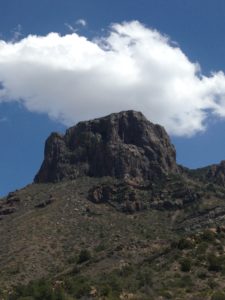 Note: I have AT&T and got almost zero cell phone reception in the Park, thus supporting my fears of dying out there. Occasionally, I got a few bars along a road and was able to pull off quickly to check voicemail or check in. I heard from other campers that other cell phone carriers fared no better.
After Terlingua, I headed back into the Park and headed south on the Ross Maxwell Scenic Drive. This is worth it on a too-hot or rainy day – the views really are wonderful – but I question the encouragement of so much driving around the Park. Had there been a daily shuttle, I would have signed up to save the environment just a wee bit.
At the end of the Scenic Drive, one could take a dirt road north to Terlingua, but I didn't dare try this adventure with my 2005 Toyota Corolla! There's apparently lots of off-roading opportunities in Big Bend for those with high clearance vehicles or dirt bikes. I saw several smiling Jeep owners and motorcyclists at the Rio Grande camp store.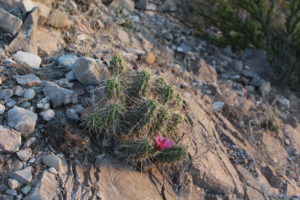 If I were to go back to Big Bend National Park, I'd be sure to hike more in the Chisos Mountains. I would also try to secure a river trip with an outfitter. These things cost money, though, and advance reservations, but the folks coming off the river seemed happy to have experienced the Park this way.
Several days into my visit to Big Bend National Park, and after beginning to read Edward Abbey's Desert Solitaire, I began to see the Park and the desert differently. I could see more greenery, more diversity in the plantlife, and more beauty in the landscape.
It also helped that I finally got into camp life, letting go of the need for cell phone reception and wifi (a little bit) and sitting myself down in a camp chair with a book. My visit coincided with National Park Week and I was proud to purchase my annual pass at Big Bend National Park. I'm going to put it to good use this year.