Redwood National Park has been on my bucket list for quite some time. I used to see photos of the tall, majestic redwoods and something in my soul would stir. I've always wanted to travel out west to see them and I finally had the chance this August.
Redwood National Park is home to some of the tallest trees on earth, but it is also one of the most diverse national parks I have visited. In addition to the redwoods, there are prairies, oak woodlands, rivers, and nearly 40 miles of beautiful coastline.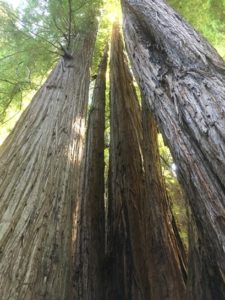 Since I was coming in from the south, I stopped in to the Kuchel Visitor Center first. There I watched a park film, picked up a map and newspaper, and headed out to the beach, just steps from their back patio. I also found out about the Tall Trees Trail, a four-mile loop hike that requires a (free) permit. A few days later, I came back for that permit and, even though they can be limited during peak times, I found it easy to get on the list and get one.
The hike was wonderful, although not at all as strenuous as the RNP website makes it seem. I took a little more than an hour to leisurely hike the trail, take photos, and even rest/meditate on various fallen trees and benches. The website claims it's a four-hour trip – two for driving and two for hiking – but I didn't spend that much time in either mode of transit.
Before I dive into further detail, it's worth explaining that the "Redwoods" are a collaboration between Redwood National Park and several state parks: Jedediah Smith Redwoods State Park, Del Norte Coast Redwood State Park, and Prairie Creek Redwoods State Park. This can be a little confusing when attempting to make a campground reservation, but the hiking maps include all four properties so, once you're there, it's not too bad.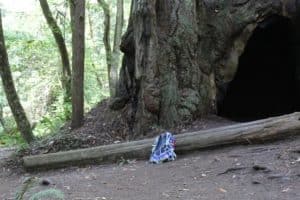 I stayed in the Jedediah Smith campground toward the northern end of the park. It was a good campground and the ground made for soft bedding under my tent. Because the park is fairly linear, though, it meant I spent a lot of time in my car going from south to north and back again for various hikes. On my next visit, I might try for a more central campground.
I did a lot of easy hiking in the redwoods. The above-mentioned Tall Trees Trail was inspiring. The Cathedral Trees Trail had some of the largest trees I saw in the park and was only 1.4 miles. The Lady Bird Johnson Grove Trail was also very easy (1 mile, level) and made for a beautiful late evening walk. Part of the magic of the redwoods is the way they filter light around their tall bodies. I especially appreciated the evenings in the redwoods on this visit.
There are many other trails in the park – Redwood National park had the largest selection of trails and some of the easiest I've seen in the national park system. I hiked a few more than the ones above, but I've forgotten the trail names. You can read about the many options in the southern end of the park or the northern end.

I especially appreciated the scenic drives in the parks. Take the time to get off the main road – the views are worth it. As I traveled north and south on a few different days, the Nathan B. Drury Scenic Parkway became a favorite. It was a slow (20-30 min), 10-mile detour off the main road, but it also had me out of the car quite frequently for photos and easy hikes on short trails.
I came to Redwood National park with high hopes. I've really spent years looking at photos of redwoods and feeling like there would be something here for me. I can't say that all my hopes were met. That could be because I've recently visited Great Basin National Park, with the oldest trees in the NPS, and Sequoia & Kings Canyon National Parks, with the "biggest" trees on earth.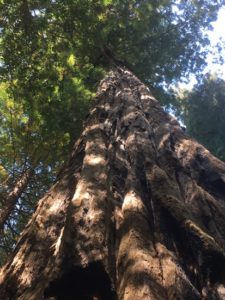 The redwoods, though, have their own impressive history. Some redwoods live to 2,000 years, which puts me into a state of awe thinking about the changes they have witnessed. Even the average age of a redwood, 500-700 years old, is impressive. And yet, an insane 96% of the original old-growth forests have been logged. That number makes me so sad. Luckily, RNP contains 45% of the remaining, protected old growth redwoods in California. And I got to see some of the tallest in the Tall Trees Grove.
My visit to Redwood National Park made me appreciate conservation efforts even more than I already did. These are magnificent trees and many future generations should live to see them still standing.
My visit to this area of California also got me a little out of my travel rut, which was a good thing.
I attended the Humboldt County Fair, trying to get out of my usual national park/coffee shop/art museum loop. This Fair was fun and relaxed on a sunny afternoon. I checked out all the local competitions, including ones for art, flowers, cacti, and even one for scarecrows! I also bought tickets to the horse races and tried to figure out the betting system. I never did, but that was a good thing: at one point, I took video of a horse race only later to realize I was getting excited by a mule race.
I also drove south to Eureka, where I found the only good coffee shop for miles around: Old Town Coffee & Chocolates. I may have been biased, though: they were one of the very few coffee shops since I've left Vermont offering maple in their lattes. Plus, they had chocolate-dipped cherries and not the kind with cherry cordial in them – just plan chocolate-cherry deliciousness. Their stylishly cozy atmosphere, lattes and snacks, live music, and solid wifi made them a great place from which to work.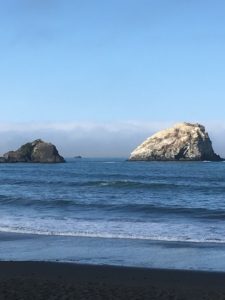 My side trips added a little diversity to my hiking and camping days.
Redwood National Park is one of the NPs that's better for vacationers than a digital nomad, someone who needs to stay plugged in for work. I can see myself returning for a week when there's no pressure to find wifi and just lots of time to hike and absorb some of the energy from the trees. There are certainly many more hiking trails left for me to explore, including some amazing ones by the coast and along cliffs.
Have you visited Redwood National Park? Which trails do you remember or recommend?
Save