Zion National Park is a place that inspires religion, with its cathedral-like mountains and the restrained garden-like feel in its valleys. I wasn't necessarily inspired to the local religions of Utah, but I could feel how this unique national park made me want to strive for something bigger, loftier, higher. For five days, I chose the park as my idol, worthy as it is.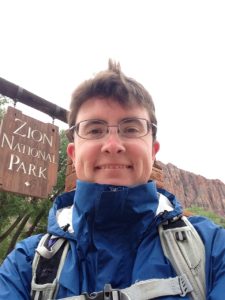 I drove into Zion from the east side of the park. It was a quiet, slow 25-mile drive to where the real hub of the Park is. Still, the scenic drive is a treat and a great way to see the Park, especially since the earth formations and vistas are very different from what you'll see in the southern hub.
At the southern tip of Zion National Park, though, hop on the shuttle which runs up through Canyon Junction for a more environmentally-friendly way to see some of the best views of Zion. In the bus you'll hear commentary from rangers, Native Americans, photographers, and others over the speaker system. Zion had the quickest shuttle system I've seen in a park yet, with very little wait time between buses. I always try to take the national park shuttles at the very beginning of my visit, just riding from one end to the other non-stop, as a way to get a feel for what's available. At Zion, I even took the town shuttle to get a feel for Springdale, UT. I highly recommend this form of tourism, in any park, as a way to see the sights while not clogging up the roads or the air.
Zion National Park has a small visitor center and a huge bookstore. Check out the VC if you have questions. However, in the promenade outside the VC there are several stands with signs. Here Zion displayed a serious number of hiking options, with details and directions, based on the time you might have available. I snapped a photo of each to look into later, but I also thought this was a clever idea and a way to disperse traffic and/or question-congestion in the VC.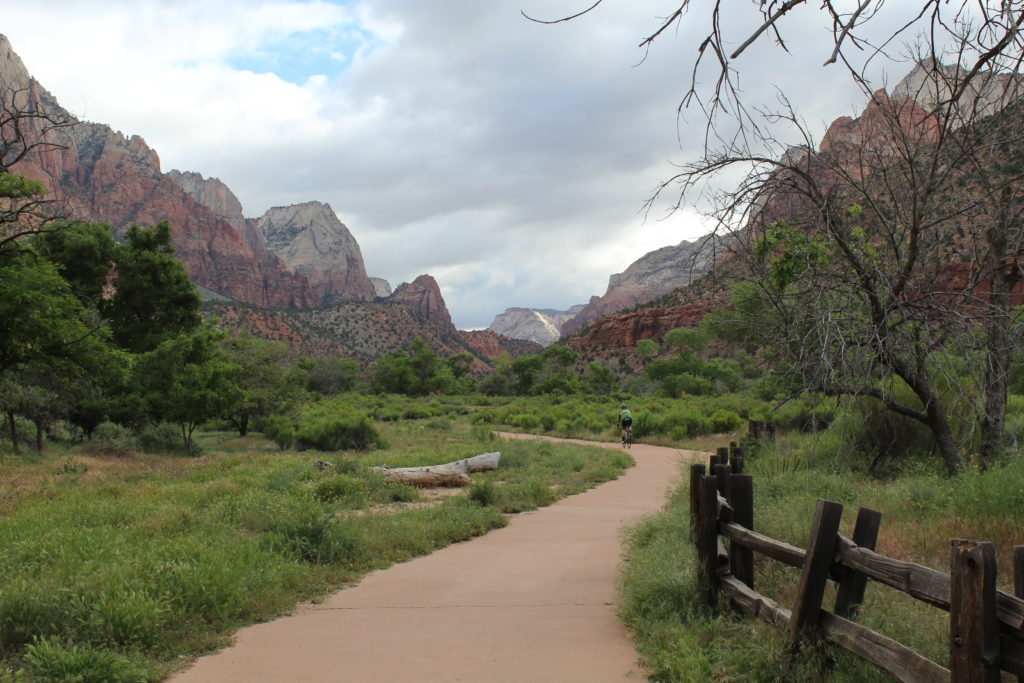 Now, my arrival at Zion wasn't totally smooth. Both the South and the Watchman Campgrounds were full, so I headed into town and stayed two nights at the Quality Inn RV Park & Campground. They really "utilize their space well," as in packed us in tight, but for $30, I got a safe place to tent, a fire pit, a (rickety) picnic table, and, seriously, the best showers I've ever seen. The bathroom/shower building has eight shower rooms. Each of these rooms is spacious – larger than my whole bathroom at home – with nice tile, hot water, a chair, and hooks for your clothes. It was a funny juxtaposition: to be camping and (somewhat) roughing it while having access to really luxurious showers!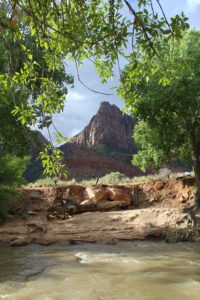 After two nights, I got in line at the South Campground at 7:00 am. Apparently, this is a normal thing: you wait for the current campers to leave one-by-one and then you can zip in and take their spot. I stayed at spot #97, a long, wide space really intended for an RV, within Zion National Park, for three more nights.
From this campground, I had access to potable water and a basic bathroom, but had to leave the Park to access showers at a private facility.
This might be a good opportunity to talk about the unique set-up of Zion NP. Driving into Zion from the East side makes it pretty clear you have landed within the Park. However, the boundaries between park and town on the south end are fairly thin and confusing. Parking is extremely limited within the park, so you may even have to park at the other end of town and take the shuttle I mentioned above to another Park entrance accessible only by foot.
As you approach this pedestrian-only entrance there's a movie theatre, brew pub, market, coffee shop, and bicycle rental shop (where the showers are). These facilities have been designed to look a lot like NP facilities. But they aren't. I was disappointed that so much profit had been outsourced by the NPS, as well as intelligence. I can't tell you how many times I witnessed Park visitors asking the for-profit staff questions and the for-profit staff not knowing much of anything about the Park.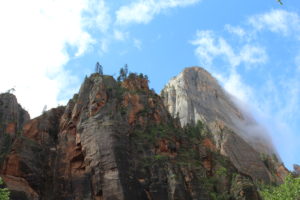 From this small plaza, though, cross the foot bridge to the Park entrance and you're then within the serenity of the Park.
Okay, let's part ways with the facilities and amenities for a second and talk about the sights and the hiking within the park.
As with most NPs these days, there are many short hikes available. Strolls, really. On my first day of hiking, it was rainy, chilly, foggy and overcast in many parts of the park, although the mountains really kept things shifting in unexpected ways. So I hiked a bunch of the short trails, utilizing bike paths or the shuttle to hop between them. I hiked the Court of the Patriarchs, the Pa'rus Trail, a short, huff-and-puff climb to Weeping Rock (the altitude, I blame the altitude!), the path from the Lodge to the Grotto, and the Riverside Walk to the Narrows.
Since there had been so much rain, the Narrows were closed to hiking. I was both relieved and disappointed. The Narrows is an iconic hike and photo opportunity. However, the whole hike is within bone-chilling river water, which I would gladly save for a day deeper within the summer.
I also hopped off the shuttle and visited the Human History Museum. This is an interesting stop and the park movie explained the geology and history of the area. There's another film, Zion Canyon: Treasure of the Gods, just outside the park and on a big screen. This one was curious. It was informative, historical, and visually engaging, but the story line was a bit odd. It focused on the spirits within Zion and how they, essentially, jinx anyone who dares to explore, colonize, photograph, or rock climb within the park. It was a bit superstitious. On a day when you want to get out of the weather, go ahead and see this movie – it will spark discussion. Otherwise, stick to the Robert Redford-narrated, 3-D America Wild: National Parks Adventure, a visually arresting and inspiring film.
The one major hike I did within Zion satisfied me for most of my stay – and possibly took years off my life: Angel's Landing Trail (4.8 miles, unpaved, dangerous). This hike starts off innocuous enough, eventually climbing up and up. Then "Walter's Wiggles" carry you up, up, and more up. I've heard there are 21 wiggles – switchbacks, really – but I lost count. Once at the top of this section of trail, the most daunting section is still ahead of you. There's a 0.5 mile climb along a rocky, narrow ridgeline of the mountain. It was the longest and strangest 0.5 miles of my life!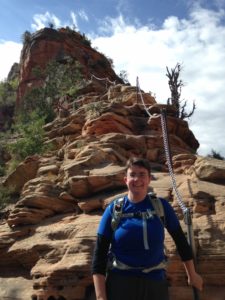 From the false summit at the top of the wiggles, one can see people beginning to ascend the Landing, many holding on to the heavy-duty chains bolted into the rocks. You can tell it's strenuous and difficult, but it doesn't look bad at that point. I surveyed the situation – I'm not too good on my usual slick, Vermont rocks, but I was interested in the view and the challenge and the bragging rights – and finally decided to stash my hiking poles and give it a go.
The hike was definitely strenuous. There's a bit of bouldering involved – I often used both hands to pull myself up, maneuver myself around, or lower myself down. The rock is so steep – and some places where you need to put your feet are so slim – that I regularly needed to hold on to the chains. I felt lucky (and smart) for starting my hike so early: going out there was little "traffic," but coming back it was nearly ridiculous. Hikers had to navigate the terrain, the heights, the chains, and each other in what sometimes felt like death-defying efforts.
I'm not prone to vertigo, but this hike could bring it on in anyone. At one point, I was crouched down and maneuvering around some rocks. I stood up and immediately started wobbling. I quickly grabbed the chains and steadied myself. The thing most people don't realize about this trail, especially when it's described in writing, is that there are straight-down drop-offs on your left, right, or, sometimes, both sides. Your eyes can easily get confused on where to focus: 5,000 feet below or here at my feet? 10 miles out or here on this tree I'm now holding onto for dear life? The depth-variances are what will cause vertigo unexpectedly.
When I returned from the Landing, I was tired and exhilarated. I may have just floated back down to the shuttle stop. Hiking Angel's Landing in Zion National Park was definitely worth it, although I wouldn't recommend it after 10:00 am. Avoid the crowds, go early, be careful, and have the hike of a lifetime, at least for us amateur adventurers.
In Springdale, UT, just outside the southern border of the park, the town has some really great shops, restaurants, and sights. The Canyon Lodge Brew Pub has great food and beer with a nice atmosphere. Deep Creek Cafe has excellent coffee, food and pastries, plus solid wifi. I would highly recommend the Avocado Toast for breakfast, and the BLT or the Dirty Virgin for lunch.
Pro tip: the Canyon Lodge movie theatre, with the superstitious film, has the best wifi in town. If you arrive when they open (2:30) and buy a movie ticket for later you can use it guilt-free. I even asked the staff if I could use their wifi on two other days when I wasn't seeing movies.
Overall, my visit to Zion National Park was enjoyable, if also odd at times. It's an amazing landscape – the best hiking is early in the morning and the best photography is in foggy or rainy weather. It was a mystical place on many different levels.
Have you been to Zion National Park? Which hikes did you enjoy most?