I've been diving into my Greatest Books list lately. As I added more details to the document, I wondered if there was an outstanding year on the list (read about that here). Then I wondered if there was a greatest decade for literature.
And here's what I found: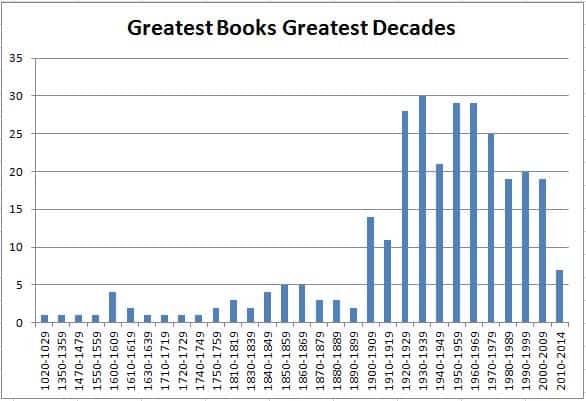 The decade from 1930-1939 saw 30 books published that ended up on the various lists I culled for this Greatest Books list.
The Greatest Decade for Literature:
1930, Laughing Boy by Oliver Lafarge
1930, The Maltese Falcon by Dashiel Hammett
1930, U.S.A. Trilogy by John Dos Passos
1930, As I Lay Dying by William Faulkner
1931, Years of Grace by Margaret Ayer Barnes
1931, Light in August by William Faulkner
1932, The Good Earth by Pearl S. Buck
1932, Brave New World by Aldous Huxley
1932, Tobacco Road by Erskine Caldwell
1932, Journey to the End of the Night by Louis-Ferdinand Celine
1932, The Studs Lonigan Trilogy by James T. Farrell
1933, The Store by T.S. Stribling
1934, Lamb in His Bosom by Caroline Miller
1934, I, Claudius by Robert Graves
1934, Appointment in Samara by John O'Hara
1934, The Postman Always Rings Twice by James M. Cain
1934, Tender is the Night F. Scott Fitzgerald
1934, Tropic of Cancer by Henry Miller
1934, A Handful of Dust Evelyn Waugh
1935, Now in November by Josephine Winslow Johnson
1936, Honey in the Horn by Harold L. Davis
1936, Absalom, Absalom! by William Faulkner
1937, Gone With the Wind by Margaret Mitchell
1937, Their Eyes Were Watching God by Zora Neale Hurston
1938, The Late George Apley by John Philips Marquand
1938, The Death of the Heart by Elizabeth Bowen
1938, Scoop Evelyn Waugh
1939, The Yearling by Marjorie Kinnan Rawlings
1939, Finnegans Wake by James Joyce
1939, The Day of the Locust by Nathaniel West
I wonder if some of these came out of the exuberance and excess of the 1920s while others came out of the hardships of the 1930s. It's quite an impressive list.
The next tier of greatest decades for greatest books includes 1950-1959 (29 titles), 1960-1969 (29 titles), and 1920-1929 (28 titles).
Clearly, the Greatest Books list is biased against very, very old books, which may have been lost in time or not had access to large audiences, and also very new books, which may not have had the chance to win awards and stand the test of time yet. But, this has been a fun experiment nonetheless.
It's made me think about historical events and conditions that may have helped create great writers or their great works.
Have you thought about your favorite works of literature and when they were published?
Would you agree or disagree that the 1930s was the greatest decade for literature?