I've been working on a "greatest books" list for several years now. I recently reorganized my list and double checked my sources. My version of a "greatest" list comes from Pulitzer and National Book Award winners, Modern Library's 100 Greatest Novels, and a list of lists from GreatestBooks.org.
Download the Greatest Books list here.
As I added more details, I started to wonder if there were trends in these data points.
So I did a pivot chart of the years the books were published and it looks like a whopping seven were published in 1934.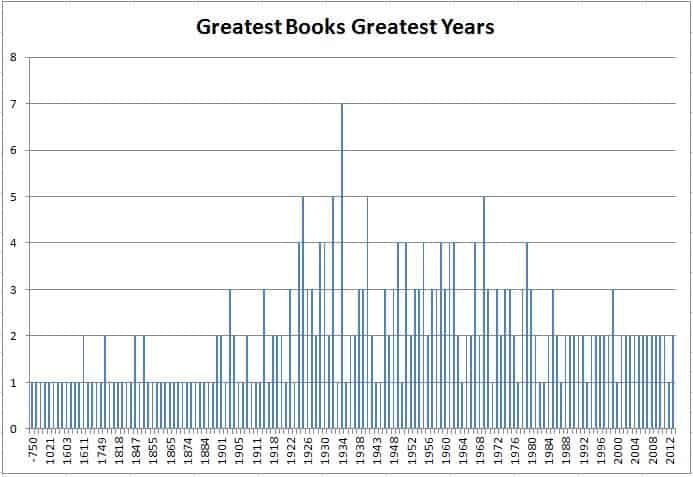 The "Greatest Books" published in 1934 were:
I, Claudius by Robert Graves
Lamb in His Bosom by Caroline Miller
Appointment in Samara by John O'Hara
The Postman Always Rings Twice by James M. Cain
Tender is the Night by F. Scott Fitzgerald
Tropic of Cancer by Henry Miller
A Handful of Dust by Evelyn Waugh
I was surprised by this. I didn't recognize all of these titles, though I did recognize most of the authors.
The next tier of great years for greatest books includes 1925, 1932, 1940 and 1969 with five books each from the Greatest Books list.
I'd say that 1925 easily gives 1934 a run for her money with these titles:
An American Tragedy by Theodore Dreiser
So Big by Edna Ferber
The Great Gatsby by F. Scott Fitzgerald
The Trial by Franz Kafka
Mrs. Dalloway by Virginia Woolf
Obviously, the Greatest Books list is biased against very, very old and very new books. But, this has been a fun experiment nonetheless.
It's made me think about historical events and conditions that may have helped create great writers or their great works. Also, it's revealed social trends and an author's popularity streak.
Have you thought about your favorite works of literature and when they were published?
Would you agree or disagree that 1934 was a greatest year for literature?