This post was previously published on the BucketList.org blog in January 2015.
Authors are like rock stars to bookworms. So any bookworm bucket list will include meeting your favorite author, poet or essayist.
Who would be on your list? The author of your favorite book from childhood? The poet whose words were your first true love in a high school English class? Or the journalist who wrote the book that opened a whole new world to you?
At the top of my list are Wendell Berry, Thomas Moore, David Whyte, and Vicki Robin. Some of my favorite authors are no longer living, but I fantasize about asking Rumi, Alice Miller, Tee Corinne, or Flannery O'Connor to sign a book for me.
Luckily, I've met David Whyte and Thomas Moore and they were definitely bucket list experiences.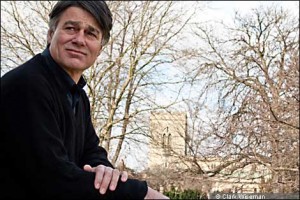 In 2013, with just a few weeks notice, I learned that David Whyte, poet, speaker and author of The Three Marriages and The Heart Aroused, would be at the Kripalu Center for Yoga in Health.
I scrounged together the money and took the day off to attend the 3-day event, entitled "What to Remember When Waking." Going to Kripalu was, in and of itself, a bucket list goal, so I knew to expect meditation, yoga, excellent food, beautiful grounds to wander around, and sessions filled with David Whyte's own excellence.
The great benefit of meeting one of your favorite authors is hearing their work in their own voice. And David Whyte has, not only an excellent reading voice, but a magical Irish-Yorkshire accent. He went over and over lines, giving the words time to soak in and mesmerize the audience.
Having so much time with Whyte exposed me to a broader range of his work and made a fully three-dimensions experience out of what I'd previously only been reading in books.
Thomas Moore, author of Care of the Soul and fifteen other books on spirituality and cultivating soul in one's daily life.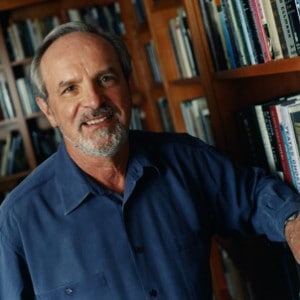 I met Thomas Moore, former monk, mystic, and author of Care of the Soul and A Religion of One's Own, in entirely different circumstances than Whyte, but the effect was similar.
Moore, who lives just one (U.S.) state over, was going to speak at Northshire Bookstore in Manchester, VT. I made a day of it, asking a friend to join me for the drive and dinner.
Moore gave a brief presentation of his latest work, responded nimbly to audience questions, and detailed some of his current scholarly interests, which  we all encouraged him to publish for us…soon!
The event was entirely too brief, but hearing Moore in person gave me, again, a three-dimensional experience of who he is and how his ideas live.
He also signed two books for me with very touching comments.
In many ways, authors are not like rock stars. There aren't too many who get screaming fans or look out at an audience to a sea of flicked Bics (or glowing iPhones).
But, as Joe Queenan wrote in One for the Books, "Book lovers feel that writers are speaking directly to them across the pages, perhaps even ministering to them, healing them." Thus, for bookworms like myself, meeting a favorite author can be the highlight of a year. It certainly deepened my love of Whyte's and Moore's works.
Which literary figures would you like to meet?