Ten years ago today, I graduated from college. This is significant because today I also paid off my student loans, making me totally and completely debt free!
This is about how I feel: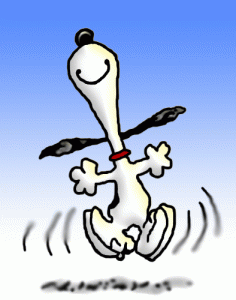 Earlier this year, I paid of my credit card. And I've written about my long battle with the debt beast before.
Some folks would never put their personal finances out there in this way. In some ways, the details of my finances are very private too, but getting out of debt has become an adventure as well as a quest toward voluntary simplicity.
I've also written about it because living a debt-free lifestyle has become incredibly important to me and I hope to inspire others to think about how their money impacts the world and their own life.
Specifically, here's the next step…
Now that I'm debt-free, I want to create a life worth living. I want to focus all of my extra time and money on this bucket list of adventures I've had in my head since I was 13.
Debt has held me hostage for 10+ years and I'm finally free. I want to skydive, take a beach vacation and some big hiking and bicycling trips. I want to travel more, but earnestly begin saving for some land and my dream home.
When looking at my budget now, I suddenly feel rich. Money that was formerly being siphoned off to credit cards, car loans and student loans, is now just simply available in my checking account.
It's been a long road, which started off as a mere footpath overgrown with brambles and snares, and is now opening up to wider clearance and vistas. What a breath of fresh air.
To read more about my efforts to get out of debt, click here.