While working in Kentucky this winter and spring, I am lucky to be just two hours from Nashville's Frist Center for the Visual Arts. A few days ago, I was there for Secrets of Buddhist Art: Tibet, Japan, and Korea.
Secrets was a stellar show, almost overwhelming in its significance. We were there for a few hours before heading out to lunch (Sitar, an Indian restaurant I'd highly recommend) and then returned once our eyes and minds had rested a bit.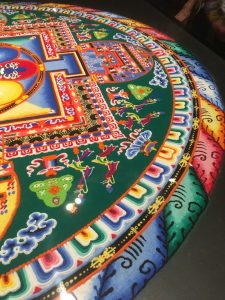 The exhibit was organized by the Newark Museum and is divided into 5 sections: Buddha, Buddhas, and Bodhisattvas, Life and Death, Health and Wealth, Teachers and Students, and Mandala. Also on exhibit was a temporary sand mandala that was ritually formed and will be ritually removed by Buddhist monks. The mandala was delightful: intricate and perfect, delicate and colorful, detailed and impressive. I don't know if I could attend a removal of a sand mandala, though. I imagine myself feeling either shocked over the loss of a great piece of art effort or uplifted by such a beautiful example of the Buddhist non-attachment lesson. I won't push it, though. I have no plans (yet) to attend the May 7th removal.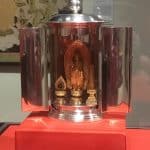 Several of my favorite pieces were from Japan. The number of shrines in the exhibit was inspiring since I have an altar at home with various religious books and symbols on it. Nothing compares to the large and small, personalized altars on exhibit in Secrets. The silver and gold one pictured to the right was created by Hoshimori Unno and Eizawa Kingoro in 1897. This shrine was intended to support the rebirth of the person inscribed in the shrine, Niwa Keiko.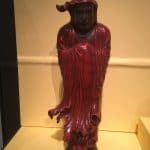 The sculpture pictured to the right, Bodhidharma, was breathtaking. I came back to it several times; I was really drawn to it. The artist, unnamed in the exhibit, imbued the materials, wood and lacquer, with enormous energy. I don't know if a photo can convey the powerful current circling this statue.
Another piece in Secrets was from Korea. Seated Buddha, is a humble, worn statue at first glance. But at the base, one can see a notch in the wood and something inside. There's paper in there, printed prayers! A cat scan, like the one pictured, gives us a noninvasive glimpse into the contents of this hollow Buddha. I'm very much into art, but these days the science and conservation of art interest me even more, so this piece was particularly amusing to me.
Secrets of Buddhist Art contained many more pieces than I've mentioned and was a tour de force of Buddhist art in Japan, Korea, and Tibet. Scrolls, swords, mandala, and many tapestries provided a feast that took us more than three hours to walk through. Since the exhibit was a bit overwhelming, I would recommend splitting up a visit, by, say, lunch or an overnight stay. But even with just a few minutes to spare in Nashville, or wherever this exhibit travels to next, I would recommend a tour. This was a very high quality exhibit.
Claire Morgan's Stop Me Feeling
Also at the Frist was Claire Morgan's Stop Me Feeling. This is the artist's first solo exhibit and, even based on just six works, I would say this won't be her last.
Morgan's three dimensional works are colorful and intriguing. At nearly each piece, I did a 360 degree walk around to make sure I got the whole piece. Morgan plays on geometry, working with grids and shapes, to form litter and taxidermied animals into works of art that had me standing, kneeling, stretching, and bending to catch every interesting angle.
In If you go down to the woods today, there's a Muntjac (a small deer), butterflies suspended from nylon strings in very precise patterns, torn polythene, and lead. In the pictures below, the orange material you're seeing is the polythene, not the butterflies. The butterflies are hidden within the exhibit and one is just near the Muntjac's nose.
If the viewer stands in certain spots, the view into the piece is not that clear. But move just a few inches over and you can see the patterns of the nylon strings and polythene, meant to obscure and clutter around the butterflies.
Morgan's pieces provide visual commentary on the human, polluting interaction with the natural world, and the complicated, yet so structured, patterns.
It was very different from Secrets and a refreshing break.