I recently spent 16 days in Asheville, North Carolina. I housesat for a couple and their dogs, which gave me a really affordable way to explore the city slowly and from a location just a few miles from downtown.
I've heard great things about Asheville. One coworker just returned from the area and another was heading there. It also popped up on my radar screen a few times as a burgeoning beer and food mecca while I was learning about the hiking opportunities in the area.
In reality, there's definitely an abundance of food and beer enterprises and the hiking was great – as a Vermonter, it was wonderful to be in the mountains in February! The city was a good place to land and had some real gems I enjoyed discovering, so let me get right down to highlighting them:
The Woolworth Walk was one of my first stops, since I love diners. But this one was especially unique: in addition to a fully-restored diner highlighting some of the racial history of the area, the business, and the building, the grand space is now exhibit space to 175+ artists. The artwork, in stalls and on the walls, is worth a half hour meander. Use that to work up an appetite for a great BLT and save room for an ice cream sundae.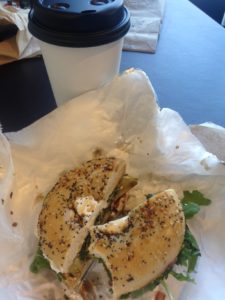 My favorite spot, by far, was the Clingman Café, over in the River Arts District. These folks had great coffee, friendly and prompt customer service (props to Jake!), and delicious breakfast sandwiches. I tried – and highly recommend – the RAD Bagel (bacon, arugula, cream cheese, cucumbers and balsamic on your choice of bagel) or the Joey Bagel (sausage, egg, smoked gouda, pesto). Also, you can't go wrong with their muffins. I especially enjoyed the banana chocolate chip muffin, which was the perfect balance of each moist ingredient.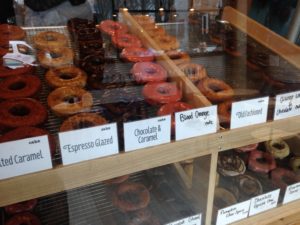 Other honorable mentions in the food and coffee categories include Vortex Donuts, although seating can be difficult to secure on the weekends, Izzy's Coffee Den, which has a cave-like feel for those days you need to hunker down on the laptop, French Broad Chocolate, an upscale chocolatier and coffee shop. At French Broad, try the Mudwrestler, with local nitro stout beer, vanilla ice cream, espresso and chocolate drizzle. At first sip, I didn't like this. The beer was too pronounced. But once the ice cream started to melt and I stirred everything together, it was a good boozy, creamy concoction.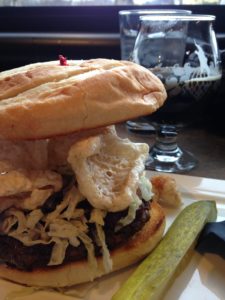 For dinner, head over to Wicked Weed. I had a burger with pork rinds, lardon, hoisin bbq and savoy slaw – amazingly delicious! I don't see it on their web menu right now, but hopefully they've kept this one around. I also had a Valentine's raspberry stout that was a solid choice. Afterward, walk up to Double D's, a café inside a double-decker bus. I had a thick hot chocolate and went up top to people watch and catch up on social media. This would be a cute date spot, or just a nice part of a downtown stroll.
Lest you think I only visit diners and coffee shops – which isn't far from the truth – let me also recommend the Pinball Museum. For $13, you can play 30+ pinball machines ranging from the 1960s through present day. Besides the novelty, I appreciated the history on each machine, detailing the year manufactured, the designer and anything interesting of note. Plus, the Museum has a bar and it's extra fun to play arcade games with a drink in your hand.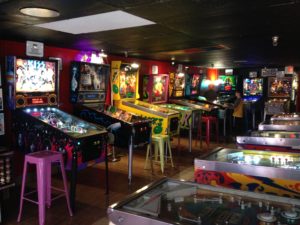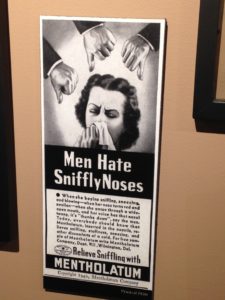 The aSHEville Museum is worth a quick visit, especially to see the "100 Years of Sexism in Advertising" and "A History of Hysteria" exhibits. The "Hysteria" exhibit is essentially a history of vibrators in the US – it was informative and fun!
A visit to Biltmore, "America's largest home," was worth the splurge – tickets are $40-$50, less if you purchase in advance. Built by George Vanderbilt and sitting on 8,000 acres, the property is beautifully maintained and curated. I especially appreciated the grounds and wandered several gardens and woodland trails. Make a day out of this, folks. Cedric's Tavern provided a satisfying lunch – the Jack and Coke Wings, with lime crème fraiche really hit the spot. Southern BBQ taken up a notch! Then, The Creamery, provided a nice mid-afternoon coffee and pastry as I sat outside in the sun and wrote postcards.
Asheville dished out some cold, February weather while I was there, but it wasn't anything compared to the Vermont winter I was fleeing. I was still able to walk the two miles into town most days, snow or rain. I also went hiking at Chimney Rock State Park, Pisgah National Forest and Dupont State Forest.
Chimney Rock was a fun novelty – and plenty of stairs up to that iconic top! But more extensive hiking was found in Pisgah and Dupont, which I visited in the same day. Both of these parks are worth a stop at a Ranger Station for maps and advice, especially in cold weather when some roads close. The waterfalls available in this part of the state are stunning. In warmer weather, I'd be here all the time for swimming, but I was even glad to be hiking in February, something we can't do in Vermont!
In Asheville, I also participated in several fun events. I volunteered for two days at the Bluegrass First Class event, handling their social media and some photography. I met great people and got a thorough introduction to bluegrass music and some of the best bands on the scene. Salman Rushdie came to UNC Asheville and spoke about "Public Events, Private Lives: Literature + Politics in the Modern World." He was interesting and entertaining. There also seems to be a lively LGBT scene in Asheville and I was delighted to stumble upon several lesbian groups online. I even attended a women's dance one evening, which was a fun diversion to the daytime, foodie ventures.
Other Asheville ventures worth mentioning include: Hop Ice Cream Café, Green Sage Café, the Mediterranean Diner – downtown Asheville oldest restaurant!, Old Europe Pastries, and Kilwin's Chocolates, Fudge and Ice Cream.
If you've read this far, I'll reward you with a tip on the best spot in Asheville: Biscuit Head. This is a southern, comfort food diner (with two locations) that takes southern cuisine to a whole new level and will elevate your brunch plans forever after. I got a biscuit and gravy flight, so I had my choice of three gravies. I chose pork sausage, fried chicken and the daily special, bacon brie. The pork sausage gravy was my favorite, though.
The truly excellent thing about Biscuit Head was the butter and jam bar. You could go up and fill little containers with Raspberry Truffle butter, Banana Foster butter, Peach Rosemary jam, and many more. I actually preferred this "flight" to the gravies, but was glad to not have to choose between the two. I also had a maple bacon latte, which was a maple latte (my first since leaving Vermont!) with a huge piece of crispy bacon wedged on the side. Wonderful!
I'd give Biscuit Head five stars and it's even worth the wait on weekends.
Overall, Asheville, North Carolina was a good place to visit and I think it'd be even better to be there in the summertime. I'd enjoy hiking all over the place and then landing at one of Asheville's great bars or restaurants for the evening.
Have you visited Asheville? What places or features did I miss?
Save
Save