I knew I would like Austin, Texas, but I had no idea how much I enjoy the city nor for what reasons. Everyone knows Austin as the live music capital of the world, but I soon discovered a mind-blowing food and coffee scene in the Texas capital as well. Apparently, I'm not alone in appreciating the city. Austin Demographer Ryan Robinson has document 150 people moving to Austin each day and 40 leaving each day, for a net gain of 110. Can you imagine the U-Haul business?
I stayed in Austin, at a quiet apartment on the south side, through AirBnB. Within quick walking distance was an efficient bus system and, even better, Radio Coffee & Beer. This, of course, was my first stop after the Visitor Center. I soon learned that many Austin coffee shops and bars, especially, have food trucks attached to them. This is a new combo to me and I'm not sure if it's because of zoning or permitting, but it can be both strange and wonderful. For example, you have to order and pay twice. Or, sometimes the foods don't match so great. Generally, though, it creates a unique experience where you land in an outdoor patio with your choice of food or drinks from either entity. Radio had a huge outdoor seating space to take advantage of the great springtime Austin weather.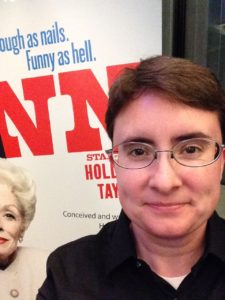 Early in my visit, I landed at the Zach Theatre for Ann, Holland Taylor's one-woman show about famed-Texas Governor, Ann Richards. Richards was a showstopper on her own – she's the author of that famous quote about Ginger Rogers doing everything Fred Astaire did; she just did it in heels and backwards! But Taylor's production was also a showstopper, bringing the Governor back to life and making her relevant to politics and women today.
Taylor wrote Ann and went on to a Broadway run with the show, eventually being nominated for a Tony. Taylor herself is an Emmy-award winning actress and, after seeing this show, I'd say she even has serious stand-up comedy chops. She shines on the stage on her own and has comic timing that is both razor-sharp and relaxed. We know this from her other performances on stage and TV (The L Word, Two and a Half Men), but since Taylor also wrote Ann, it seems like she can more-than-ably channel the comic muses for one-liners and wry observations with her own pen.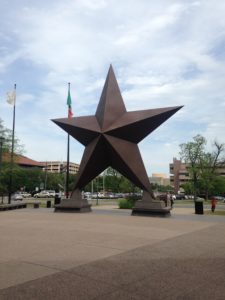 The day after seeing Ann, I packed in a bunch of sight-seeing. I spent a whopping 3 hours at The Bullock Texas State History Museum. To be honest, I didn't think I'd be so into Texas history, but this museum was pretty amazing. Bullock must have some great curators because the displays are interesting and engaging; even some of the smallest displays are given a multi-dimensional presence.
I was especially intrigued by the history Texas shares with the US and Mexico at its founding. I wasn't aware of Texans' fight for independence and/or American inclusion, nor the involvement of colonial influences. Given this fight and my newfound awareness of the size of Texas, I wonder that Texas was included as an American state in the first place. It really is large enough to be its own country! As Ann Richards once pointed out, it was the ninth largest economy in the world too! (As of 2014, it was the 12th.)
The crown jewel of the Bullock Museum is the preserved remnants of La Belle, the one remaining, salvaged expedition ship sent by French King Louis XIV in 1684. The people on this ship, as well as the other two that had different fates, is very interesting. I was intrigued by two things in particular: 1) How much it took (courage? resources? fear, want, need?) to embark on colonizing a new land. The folks on La Belle weren't just rugged explorers, exiles or criminals. Their numbers included men, women and children fully expecting to settle a new colony. And 2) how tiny the ships were that carried so many people! La Belle is NOT huge, but carried 150 people. Amazing!
Austin served up more interesting and intriguing sights, including the largest urban population of bats in the US. At dusk every night, a 15-minute long swarm of bats emerge from under the Congress Avenue bridge.
The Blanton Museum of Art, on the UT Austin campus, provided so many thought-provoking pieces. I loved the spinning chair, which made me fundamentally question office life. Watch the Blanton Museum of Art Spinning Chair here. Come As You Are: Art of the 1990s was an intriguing flashback. The 1990s now feel more akin to the 1980s than to today, especially after viewing this timepiece.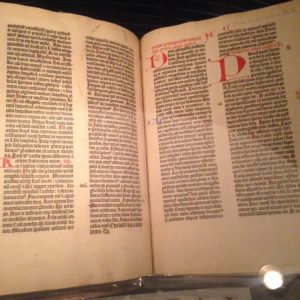 In the same neighborhood, the Harry Ransom Center has one of forty-eight surviving copies of the Gutenberg Bible, and only one of five in the US. A photography exhibit and an original Frida Kahlo self-portrait also make this quiet little spot worth the visit. While there, I tried to contemplate the magnitude of what the Gutenberg Bible (really, the press) ignited in our world. Awe-inspiring.
Back downtown, Contemporary Austin had an incredibly unique exhibit featuring the works of Mark Mothersbaugh, whom most of us know from the band Devo. It was strange because, well, that guy is strange. I say that with the utmost respect for his creativity, especially the postcard segment of the exhibit. Since the 1970s, Mothersbaugh has been drawing between one and twenty-five postcard-sized pieces of work every. single. day. Contemporary Austin had the many, many binders and the many, many pages on display. One could flip through them seemingly endlessly. I was so inspired by this commitment to a daily practice that I've blocked off a work retreat in my near future.
Now, Austin is known for its live music, but I'm more the type to enjoy the early morning coffee scene. Still, I went downtown one evening to see The Cave Singers at Sidewinder. It was worth it. Sidewinder is a great venue, with indoor and outdoor spaces and local beer on tap. The Cave Singers performed in the outdoor space, which overlooks – and barely seems to teeter upon – a steep embankment leading down to the creek.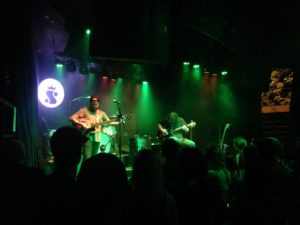 They're an energetic bunch, each playing multiple instruments with smiles and vibrancy. They are clearly having a good time on stage and the crowd rolls right along with them. I stayed for a few hours, and enjoyed every minute of it.
I've written about a lot of the non-coffee experiences I had in Austin, but I suppose it's time to get into the coffee and drink now. I don't hesitate out of drudgery. Rather, there were so many good cafes that I know it's going to add a few hundred extra words to this post. Still, here's the best of the best:
Cheer Up Charlie's, a lesbian-owned bar, was a great spot to land early in the evening. Their drinks were excellent and the outdoor space was welcoming as I pored over tourism brochures.
Alta's Café, on the waterfront, was heavenly: good food and coffee, outdoor seating on the water and strong wifi. It was here that I realized the whole Austin scene was going to be great.
Patika was closer to home on this trip and I especially enjoyed the "grown up pop tart." It's essentially a homemade pop tart, more fluffy and with better filling than the store-bought stuff. They goofed on my order initially, but were quickly gracious about fixing the order and giving me a card for a free drink.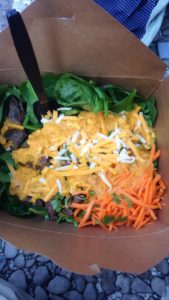 Chi'lantro is a Korean BBQ inspired food truck I found parked right outside the downtown Post Office. It was the best food experience I've had on this road trip so far. You can select from a salad base or tacos or burritos. The meats are delicious and the sauces are amazing. You can't go wrong at this truck.
Caffe Medici provided, possibly, the best iced latte I had in Austin. Up by the University of Texas campus, it clearly had a student vibe, although I got to overhear a middle-aged man brag extensively about his accomplishments to someone he was meeting with. Still, great coffee, although the wifi was a bit overloaded.
Irie Bean Coffee Bar had, quite possibly, the best set-up I saw in Austin. Indoors, the tables were small and smooshed. Outdoors, there was plenty of space, including hanging hammock chairs and a live DJ. Have you ever been to a coffee shop with a live DJ? It was definitely a first for me!
Honorable coffee mentions go to Seventh Flag Coffee and Bouldin Creek Café, which I visited twice. I especially liked that Bouldin had a coffee shop/restaurant/bar set-up, but also had a room reserved for those of us digital types. Their menu, mostly made from scratch and vegetarian or even vegan, was excellent and the coffee was great.
I could actually keep writing about Austin, but I've already hit the high points of my experience there. Basically, you have to go there yourself to experience it all. And I'll certainly be back, to hit up some of my favorite spots again, but also to visit some places I missed. The list is long, my friends. Let's all U-Haul ourselves to Austin soon.
Save
Save