Bryce Canyon National Park is known for its hoodoos, those orange spires reaching up from the desert floor like spikes in an ancient god's torture bed. Despite the well-recognized landforms, Bryce Canyon receives far fewer visitors than nearby Zion and Grand Canyon National Parks, so it's worth visiting to avoid the crowds of summer.
Bryce Canyon is in southwestern Utah, an hour and 20 minutes northeast of Zion National Park, four hours and twenty minutes north of the Grand Canyon, and two hours and ten minutes southwest of Capitol Reef National Park, all worth the visit if you can spare the time. The nearest cities are Las Vegas, NV, nearly four hours to the southeast of BCNP, or Salt Lake City, UT, which is the same distance, to the north.
While visiting Bryce Canyon for five days this month, I was amazed at the formations our earth can take.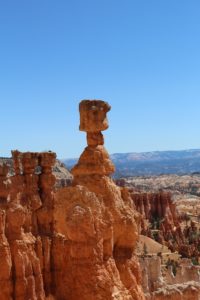 Having lived in Michigan, Kentucky, and Vermont, this orange, red, and yellow landscape was new to me. I learned that hoodoos are the result of frost wedging, when water seeps into the cracks of an eroded plateau, freezes, and expands, thereby prying open holes that go deeper and deeper into the "fin" of an eroded plateau. Then other weather erodes the exposed layers, each with their own firmness or softness, and that gives each hoodoo it's irregular shape (whereas a true spire is smooth).
Or, you can take this Paiute lesson on why hoodoos exist – and how to behave!
The legend of Bryce Canyon was explained to a park naturalist in 1936 by Indian Dick, a Paiute elder who then lived on the Kaibab Reservation: "Before there were humans, the Legend People, To-when-an-ung-wa, lived in that place. There were many of them. They were of many kinds – birds, animals, lizards and such things, but they looked like people. They were not people. They had power to make themselves look that way. For some reason the Legend People in that place were bad; they did something that was not good, perhaps a fight, perhaps some stole something….the tale is not clear at this point. Because they were bad, Coyote turned them all into rocks. You can see them in that place now all turned into rocks; some standing in rows, some sitting down, some holding onto others. You can see their faces, with paint on them just as they were before they became rocks. The name of that place is Angka-ku-wass-a-wits (red painted faces). This is the story the people tell (NPS)."
While visiting Bryce Canyon, I camped in the North Campground. Even this early in the season, turnover was tight, so I would recommend arriving early. I found a great spot, though, and was happy with the proximity to the bathrooms, Visitor Center, bus line, and the General Store where there was coffee and showers, the only two real necessities in life.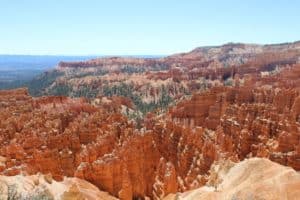 As with most national parks, I recommend hopping onto the shuttle service first, if there is one. This gives me the lay of the land without guzzling gas solo. The Bryce Canyon Shuttle even starts outside the park, for those staying in nearby inns. But it also makes stops at the Visitor Center, all campgrounds, Bryce Point, Inspiration Point, Sunset Point, Sunrise Point, and the Lodge. Hop on and off at the Points for photo opportunities – another shuttle will be back by in 10-20 minutes.
Bryce Canyon has a plethora of hiking options, but I will say that the elevation and heat can make even a moderate hike more strenuous. Start your hikes slow, be mindful of dizziness or nausea, and bring lots of water, as well as sunscreen, sunglasses, and a cover for your head.
The Rim Trail is about 11 miles long, but not difficult because of the wide paths and gradual elevation changes. It also brings you by all the scenic points.
The Bristlecone Loop is just one mile, but it's much more shaded, cooler, and offers expansive views.
The Navajo Trail can be combined with the Queens Garden Trail for a longer loop, almost 3 miles, I believe. I enjoyed this hike immensely, but I definitely wish I would have started it earlier in the day. The sun beating down into the Canyon can make it feel more strenuous than it actually is. The great thing about this loop is that it has you walking in and amongst the hoodoos. The other trails, mentioned above, give you wonderful bird's eye views and vistas, but it's astonishing to be standing beside 4-5 story hoodoos and hoodoos-in-the-making.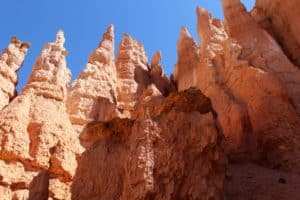 The Bryce Canyon Lodge is a beautiful, sturdy specimen of national park architecture, established in 1925. I attended two Ranger Programs there and was floored by the quality of the presentations. One was on the California Condors, which are being nurtured back into existence. The other was on the night sky, which is always fun to learn about at a national park, since NPs are some of the darkest places in the US!
It was on the night of the night sky presentation that I was enjoying my evening, taking in the lecture, and was then going to meander back in the dark to my campsite, hopefully without my trusty headlamp, although I had it with me. When I got out of the lecture, though, a surprise (to me) rainstorm had whipped up and I remembered leaving my tent rain fly unzipped earlier in the evening! I ran back to my campsite, wondering how long the rain had been getting into my tent and how much damage I might find. Well, things were a little wet, but two bandanas quickly dried up the puddles. Phew!
Many national parks have suggested itineraries, if not on their websites, then definitely in the park. If you only have a half day to spare, they have suggestions. A day or two? Then the suggestions get more detailed and varied. You can see the suggestions for Bryce Canyon here.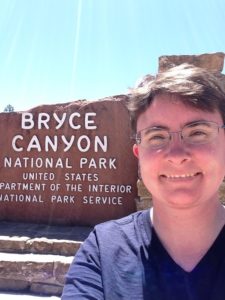 I spent five days in Bryce Canyon and would say that gave me a nice leisurely pace by which to see the park. If I wanted to utilize my time a little more efficiently, I could have compressed everything into three or four days easily. But where's the joy in speeding through a national park? I think two nights is a minimum for any NP experience. They're national treasures, after all.
And Bryce Canyon was definitely a beauty. Interesting, even strange, but also fascinating and welcoming.
Save