The most memorable part of Capitol Reef National Park was the pies. Yes, baked pies: apple, strawberry-rhubarb, cherry, peach, and mixed berry pies. All fresh, all warm if you get there early enough, and the perfect (luxurious) serving size for two.
The pies were for sale at the Gifford Homestead, which is on the National Register of Historic Places. It's a small farmhouse and cultural demonstration site, situated amongst the 200 acre Fruita Rural Historical District and just a short walk from the Fruita Campground where we stayed for several nights in June.
We made it a daily ritual to go for a sunrise hike and, upon returning, grab a cup of coffee and pie from the Gifford Homestead. If I had to imagine heaven, the Fruita District of Capitol Reef might be in my top three scenarios. Still, there was much more to the national park…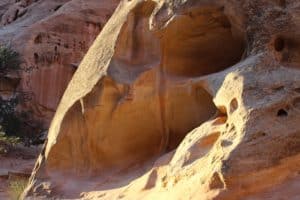 Capitol Reef National Park is three and a half hours nearly due south of Salt Lake City, Utah. It's also north of the Grand Canyon and worth exploring if you'd like to skip the hordes of people there in the summer time. CRNP is relatively small, just 60 miles long from north to south, situated along the Waterpocket Fold, a rocky spine preserved within the park. Still, the name "Capitol Reef" comes from the white Navajo Sandstone dome formations in the park, similar to the domes places on capitol buildings. And "Reef" refers to any rocky barrier to land travel.
Getting to Capitol Reef should have been relatively easy. We drove down from Salt Lake City, but it was already hot and sunny and the hills were beating up my car, which eventually decided to stall on one of the bigger ones. I lost all power in the car and coasted over to a pull-off. None of my emergency lights had come on before the stall, so I just let her set for a minute. After that, she started and we pulled back onto the road. At the top of another crest, she stalled again.
We pulled onto another pull-off and I decided to give this one over to roadside service. Up ahead, I could see a much larger mountain, with fewer pull-offs and I didn't want to risk it. Plus, we had cell phone coverage in this spot and I knew that was a rare or lucky chance. After a few tries and an hour or so, we were being pulled ahead to Torrey, UT. There wasn't anything specific wrong with the car, not that the mechanic could find, so he suspected the car had just overheated. I pledged to not pass any more cars on those big, hot hills any more.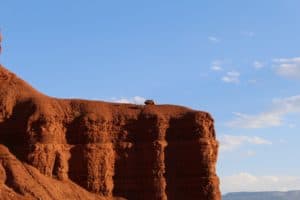 So, eventually, we made it to Capitol Reef. And there was plenty to see and do while there.
We camped in the Fruita Campground, which had large, shaded camping spaces. Loops A and B weren't totally packed, but we found  great spot in Loop C. The campground never felt packed or very full and I gained an appreciation for the lesser-known national parks like Capitol Reef.
Since the weather was so hot and sunny, we quickly devised a routine of getting up before sunrise, making a quick breakfast, hiking, heading back to the aforementioned pies and coffee, and then relaxing at the campsite until the middle of the day. At some point, a nap was warranted, until the heat made even the tent unbearable. At which point, it was back out to journal, talk, go to the Visitor Center or drive along the scenic drive. On a few days, we headed into town for an early dinner and to plug into wifi. Otherwise, we'd head back out for a sunset hike and then stargaze from an orchard.
The Cohab Canyon Trail was a 1.7 mile moderate hike which eventually gave us great views of the Fruita District. This view made it obvious that Fruita was a little oasis – a river, green trees, orchards, etc. – amongst a dry and sandy desert. The contrast was beautiful and made us grateful for our little campground.
Chimney Rock Loop was one of our sunset hikes. It's a little more than three and a half miles and gave us broad, long views of the Waterpocket Fold.
The Rim Overlook trail was my favorite. At sunrise, we weaved in and out of shadows to ascend 1,100 feet for more views of Fruita and the Waterpocket Fold, but this time from atop several dramatic cliffs. We had snacks at the top, in the shade of a large boulder, and made our way back down to the river that runs along the start of the trail. Already, the day was hot, so we took off our socks and shoes and waded in. It was wonderful to cool off – even when a small snake decided to swim between my legs! He then slithered up onto a rock and seemed to enjoy the sun and heat we were attempting to cool off from.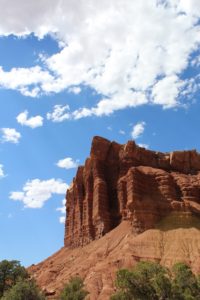 In Torrey, the Capitol Reef Inn & Café became our go-to lunch/wifi/air conditioning spot for mid-day stops. The wifi was reliable, the staff were friendly, and I would highly recommend the Strawberry Shake.
Also, since the Fruita Campground doesn't have showers, you'll have to head into town to clean up anyway. Be prepared for the $6 showers.
Capitol Reef National Park really satisfied a craving for the desert for me. I've recently been to Zion, Bryce, and the Grand Canyon National Parks, but Capitol Reef totally fit the bill for the desert image in my head. The reds of the sunsets, the sandstone domes, and curvy rocks; the yellow sunrises and the tall crevices we shimmied up. These were beautiful aspects to a relaxing few days in Utah.
Save