I recently spent a few days in Glacier National Park. I will definitely be back – and can imagine this park being amazing any time of the year.
Glacier is in Montana's Rocky Mountains, northeast of Whitefish. I arrived, played, and left just as snow-filled clouds were rolling in. I needed to be moving fast at this point on the road trip, but I regret not being able to stay at least four days here earlier in the season.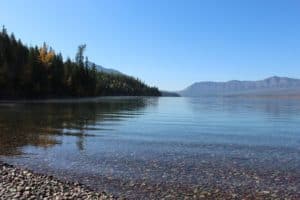 Since many of the camping options lacked shower facilities and running water this time of year, I opted to stay just outside the park at the North American RV Park. I even splurged and kept my tent in the car, because I was going to stay in a yurt for two nights! The RV Park folks were great, even leaving all of my lodging info, map, and receipt taped to the door since I arrived late. The whole campground was pitch black and only in the morning did I see more than a dozen RVs nearby. But I had a small yurt amongst four empty yurts and appreciated the new experience.
The yurt had a bunk bed (bring your own linens), table and chairs, lamp, bookshelf, and space heater. I was as snug as a bug in a rug and only five miles west of the park entrance.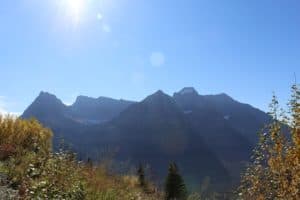 Glacier National Park (GNP) is referred to as the "Crown of the Continent" because the headwaters for streams that flow to the Pacific Ocean, Gulf of Mexico, and Hudson's Bay all originate in these mountains. An enormous part of North America is affected by what happens here. My impression is that most of the northwest United States is downstream, and within the watershed, of GNP.
The crown jewel of Glacier is the Going-to-the-Sun Road. One-way, this windy, mountainous road can take two hours and reaches 6,646 feet at Logan Pass. From the west entrance, up and over Logan Pass, to the east entrance is a full 50 miles.
I didn't time myself, but I certainly pulled over to look and take photos at every opportunity I had. There were many waterfalls, and long-range vistas, plus breathtaking drop-offs. Once at the east entrance, though, I decided to drive further east and outside the park to get back to my yurt. If you only have a half day to spend in Glacier, but want to start and end on the west side, I'd recommend traversing the Going-to-the-Sun Road both ways. There are fewer pull-offs on the east-to-west drive, but the views are different and just as dramatic.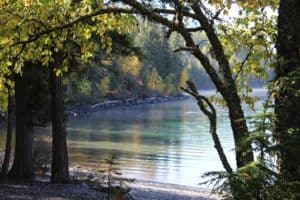 Besides this drive, I stopped off at a few lakes and really just relaxed. Come for the views, find a comfortable spot to stay, and plan a number of picnics by the lakes.
Save