Yosemite National Park is certainly one of the crown jewels of the National Park system. It was also my first experience with the high-season rush of crowds at a national park, which has me thinking about how people interact with our protected spaces.
Yosemite is in California's Sierra Nevada mountains, on the eastern side of the state. Within the 1,200 square miles, you'll find the Mariposa Grove of Giant Sequoias, Hetch Hetchy, Glacier Point, Half Dome, the Tunnel View, and many beautiful waterfalls.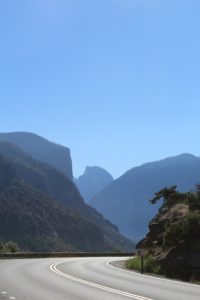 I drove in from Lake Tahoe, CA. The drive took longer than expected, but isn't that often how travel goes? Unfortunately, I didn't have a campsite reservations and this time my luck didn't come with me. At most national parks, so far, I've could snag a campsite with minimal effort and no reservations. This time, my lack of planning (or flexibility as I was calling it) had me driving around Yosemite for 2-3 hours before finally finding a great spot in Bridalvale Creek campground.
My campsite ended up being lovely: a flat spot in an elevated area. On one side, I had large boulders the size of my car, on another a gradual drop-off to a lower part of the campground, and then my picnic table and parking spot. This was where I'd stay for six days.
On my next day in the park, I lit off for the main area in Yosemite Valley. I was early, so I easily found a parking spot, but after 9:00 am I eventually started to see the crowds flooding in, in their cars, RVs, trucks, and campers. Still, it was Tuesday, so the crowds weren't as bad as they'd eventually get on the weekend.
In Yosemite Valley, there's a lot to see and do and it's all within walking distance. I stopped at the Visitor Center first, of course. The Spirit of Yosemite film was beautiful and inspiring; the exhibits were interesting. I walked through the Indian Cultural Exhibit and Village and wished there had been more interpreters or information there – it felt a little lacking.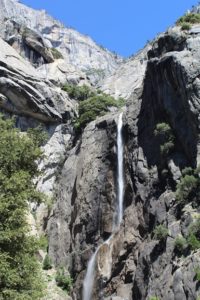 I also visited the Ansel Adams Gallery. I've long admired his work and even had a poster of one of his photographs in college. I only vaguely recall it – and don't think it was taken in Yosemite, but now I wish I'd remembered more details. The Gallery is worth a visit.
Throughout my visit, I attempted to navigate the roads via bus, car, and foot. As you start your visit, I would recommend seeing the valley on foot. It's really not too large, even though a Ranger told me that one walk was "long" when it was less than a mile. I imagine that people will all kinds of abilities – or interest in (not) walking – visit the park, but a mile walk in a national park is not a long one to me.
In the Valley, check out the El Capitan Meadow – that was the real stunning view. I haven't seen anything so large and majestic in my life. El Capitan rises 3,000+ feet from the valley floor and it dropped my jaw every single time I saw it. The Valley View and Sentinel Meadow were also amazing sights.
Yosemite Falls weren't flowing too strong while I was there. There are three cascades: Upper Yosemite Fall at 1,430 feet, the middle cascades at 675 feet, and Lower Yosemite Fall at 320 feet. Still, they were great to see and photograph. Yosemite Falls are just a short walk along the valley, so feel free to park the car and enjoy the views on foot.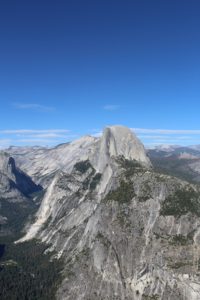 Back on the road, the Tunnel View is worth pulling off for. It's worth it any time of the day, but if you can arrive for a sunset or sunrise, it's a breathtaking experience. The light in Yosemite was beautiful, soft, and forgiving. I don't know if the rock climbers there feel that way when they're on a slab of rock mid-day, but from all the tourist vantage points, the light was inspiring.
My campground wasn't far from Glacier Point, but it took me a few days to drive up there. I drove the winding, narrow road, parked, and then hiked up the incline. Just as you crest the point, you're rewarded with a stunningly close view of Half Dome. Take a stroll to the Glacier Point Snack Stand because everyone's eating ice cream up there in the summer and it seems like a perfectly good place to enjoy a cold treat with the view.
In Yosemite National Park, the dining options are designed for the masses. Most places feel like cafeterias, with long lines, although I finally found a great iced latte in, I think, the Yosemite Valley Food Court. Admittedly, I didn't try the high-end dining options, so those may feel more relaxed than the spots I went to. Mostly, I ate at my campsite and frequented Degnan's Deli and Café and the Food Court.
The Food Court, by the way, had the best wifi I could find in the whole park. And Degnan's had a few plug-ins for laptops, but bring your own hotspot.
The Half Dome Village Grocery was a lifesaver for treats and souvenirs, while the Housekeeping Camp provided much-needed showers to all of us campers. Take the bus over there because, of course, there isn't enough parking in the high season.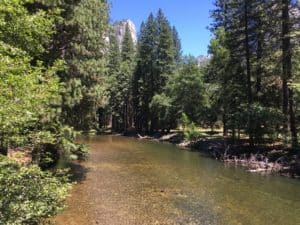 Visiting Yosemite National Park was a feast for the eyes and the spirit. But my next visit will definitely be in a shoulder season and with reservations. Our national parks can get incredibly crowded and they weren't really planned for the millions of visitors some of the receive each year. Still, Half Dome…Glacier Point…El Capitan….these are stunning geological formations that every American should see at least once in their lifetime.
Save
Save