I recently visited Tucson, but I basically hunkered down and used the city for a work retreat. I worked on client projects, blogged and made progress on my own creative stuff. Still, the one thing I won't neglect in any city is the coffee scene. I visited nearly ten coffee shops in my 11 days in Tucson and yet one stood out. Batch Cafe & Bar actually stood head and shoulders above the rest.
Batch Café & Bar
Batch Cafe & Bar is the strangest, best place I've ever visited. It has high ratings on Foursquare, Facebook and Yelp, so I visited the tiny Congress Street shop. First, let me clarify: Batch does it all and they do it all well. They serve small batch, craft doughnuts (all day), excellent coffee, a full lunch and dinner menu, beer, and, get this, "boozy cereal." More on that soon.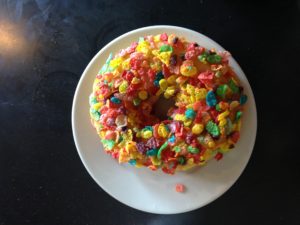 On my first visit, I had a Fruity Pebbles doughnut that hit the spot. Fruit Pebbles are my favorite guilty pleasure and I'd been craving them recently. This doughnut combo provided a sweet treat, but also an interesting texture: the softness of the doughnut with the crispness of the Pebbles. I regretted leaving a few Fruity Pebbles on the plate when the owner/barista/bartender came by to clean off my table.
I also had a Caesar Salad which was generous and had the freshest, most tender chicken I've ever had on a salad. Kudos to the team for even getting salads right. The tap list is packed with good, local, craft options. I would recommend the Uncle Bear's Peanut Butter Cup Porter, but only if you want a beer that's really sweet.
I stayed for the wifi and got a cup of locally-roasted coffee. The coffee was delicious, almost nostalgic. Remember that coffee your grandfather used to drink and you thought it was so great mostly because, well, you were a kid and he was your Grandpa? It's that brand of coffee and now you're a grown-up.
It was an odd lunch: beer, salad, and a doughnut chased by coffee. But I was having a good time.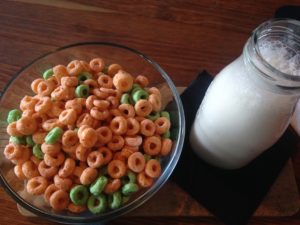 On another visit, I tried the boozy cereals. These were just too good to pass up. Since Apple Jacks are my second favorite cereal, I went for the Paddy Jacks: Apple Jacks with Paddy Irish Whiskey, apple pie filling and whole milk. The Apple Jacks came in a generous bowl and the liquid mix came in a quaint glass milk bottle on a cutting board. I went all in on the mix and pored it all over the cereal. The mix has a slightly frothy look to it, with small chunks of apple from the pie filling. If you don't pore the whole bottle over your cereal, you risk leaving those at the bottom of the jug.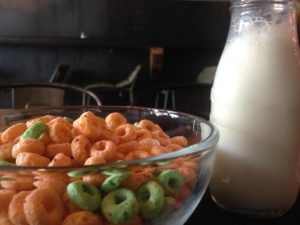 My mouth did not quite know what was happening, but it liked it. The Batch crew has found just the right mix to make this an adults-only breakfast experience. The Apple Jacks that I know and love have a strong presence, complimented by the milk and the apple pie filling, which provided additional texture and a hint of cinnamon, while the whiskey is just strong enough to create an obvious, although not blunt, flavor and aroma.
Once I finished the bowl – and I did not drink the boozy milk left over – I could tell I'd had an alcoholic beverage, with just the slightest buzz. It was more adult brunch than late-night drink (or even a Saturday morning cereal/cartoon) experience.
The other boozy cereals on the menu are worth detailing.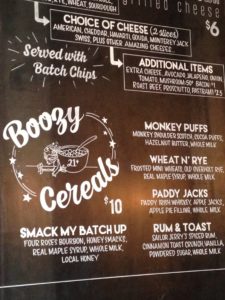 Monkey Puffs, said to be the most popular, include Monkey Shoulder Scotch, Cocoa Puffs, Hazelnut Butter, and whole milk.
Smack My Batch Up includes Four Roses Bourbon, Honey Smacks, real maple syrup, whole milk, and local honey.
Wheat 'N' Rye includes Frosted Mini Wheats, Old Overholt Rye, real maple syrup, and whole milk.
Rum & Toast, which is next on my list of favorites, includes Sailor Jerry's Spiced Rum, Cinnamon Toast Crunch, vanilla, powdered sugar, and whole milk.
The doughnut list also continues on with delicious options. I later tried a Home nut: a maple, strawberry-frosted doughnut that was light on the maple-touched dough but thick on the strawberry frosting. And yet the frosting wasn't so thick (or dry) that it cracked or could be pulled off. It adhered to the doughnut and created a lovely, sweet cap to the doughnut.
Batch Cafe & Bar is a really tiny shop, with long tables down the middle, slender (very slender!) high-top tables on the walls and a bit of outdoor seating. Above the front door, they've got a DJ loft and, even during the day, play a good selection or music. The crowds, when I visited, were always mixed. I saw guys there for the donuts and carrying on with the owners and bartenders, business people meeting, young families, couples, and groups of young people. The vibe here is very hip, but surprisingly welcoming.
And the food. I didn't have anything mediocre there in all my sampling. Sampling: that's what I call it when I mix such incongruous foods while it all hits the spot.
If you're in Tucson, plan a few visits to Batch Café & Bar. Save room for the boozy cereal. And the doughnuts. Well, save room for several courses, really.