Did you know there's a way to monitor the web for any and all mentions of your non-profit or small business name? Well, there is and it's called Google Alerts. And they can monitor much more than the name of your organization: they can be used to monitor everything important to your cause.
In this post, I'll show you how to set up Google Alerts and then offer suggestions on ways to use them.
Setting up Google Alerts
Go to https://www.google.com/alerts. In the box that says "Create an alert about…" type in your company or non-profit name, to start. As you type in the word(s), the "Alert preview" section will start to fill out. Here you can see what Google is finding on the web about this phrase right now.

Next to the blue box which says "Create Alert," click "Show options." Here you'll have some control over the alerts you will receive. For example, you can change how often you receive the Alerts, what kind of sources are monitored (blogs vs news vs videos), and even the region of the world you want to monitor. Here are the settings I recommend: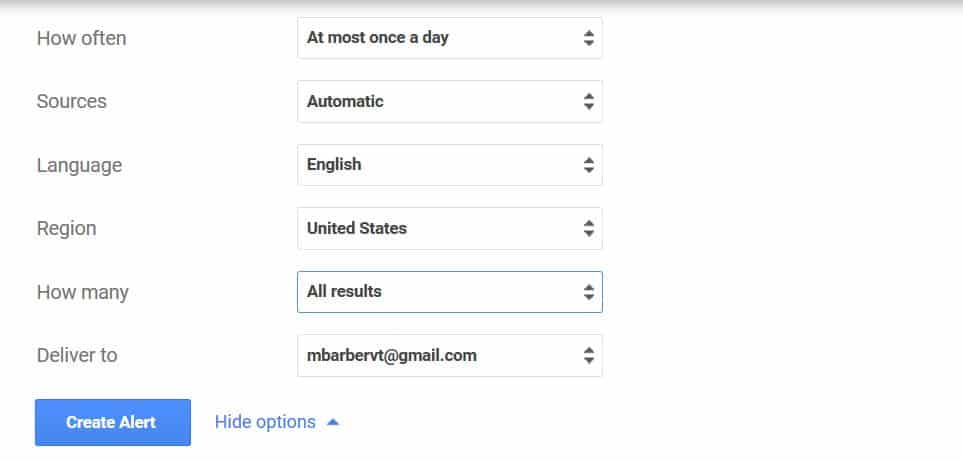 Once you gain more experience with Google Alerts, you may want to change these settings. Once you have the Alerts set up, you can always revisit https://www.google.com/alerts to update the details.
Click "Create Alert" and you'll see a list of Alerts you now have access to. These will be sent to the e-mail address you selected in the settings, at the frequency you also set, and you're on your way to hearing the news about your cause first!
But in addition to the name of your cause, how else might small businesses and non-profits use Google Alerts? Here are some suggestions:
Your organization/cause/business
Variations on the name of your organization if, for example, there's a common abbreviation or way of shortening your name
Your CEO or key employees or board members
Major donors (for non-profits)
Competitors, partners, or comparable entities
Phrases related to your cause or industry. For example, in addition to "Humane Society," monitor "animal welfare" and your state as well. Play with the search phrases until you get meaningful results in the "Alert preview" box.
Events
Corporate sponsors
Granting organizations
Parent or national organizations
If you set up Google Alerts to arrive daily, you'll know within a week whether the settings and phrases are going to be useful to you. You may need to delete some Alerts or add more phrases to make the search relevant to your cause.
On most days, you'll see news and mentions you probably already knew about. But the real benefit of Google Alerts is the hidden gems that sometimes appear in them. A volunteer may blog about their experience with your organization, which would make a great share on social media. Or a granting organization may mention you in a press release or blog post. With a Google Alert, you may be the first to know, so you can respond with a Thank You or social share. In some cases, a Google Alert will produce a negative comment or review, to which you can respond quickly before too many other people see it.
Google Alerts can also begin to inform your communications strategy. You may see a single reporter beginning to cover your industry and, with all the Google Alert links, reach out to her/him. Or you might catch a TV, newspaper, or radio story early and reach out to the news organization to offer your perspective, thus putting your cause front-of-mind to the public.
Google Alerts are simple to set up, easy to monitor and adjust, and they give small businesses and non-profits access to a free "news monitoring" service when budgets and staffing are tight.
Have you caught an interesting comment early through Google Alerts? I'd love to hear that story – leave a comment below if you'd care to share!
Save